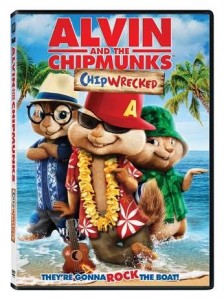 While on vacation on a luxury cruise liner, the Chipmunks and the Chipettes get into a little mischief  landing them all away from their caretaker Dave and on their own on a deserted island or so they thought.
That's where things take a turn from the usual chipmunk antics. It's nice to see the roles change a little bit here.  You'll recognize a lot of the references to other movies in the film. But of course the main theme of family love comes shining through as always. Sometimes you might be surprised at who you are when given the chance.
With laughter, a little mystery and a lot of really fun music and dancing the Chipmunks and Chipettes in ALVIN AND THE CHIPMUNKS: Chipwrecked was a hit in our home.
Reviewer 1: Princess said, "It was kinda cool. I loved it. I liked the story and the music."
Reviewer 2: Bug said, "It was pretty great. I liked it."
Me: I'd have to agree.  It's a really good family movie that makes you think, makes you laugh and in my house makes you wanna dance.
So far I think the kids have watched it in all or in parts about 3 times in the first 24 hours. Of course when I sat down to review it, they came right over and had to watch it again with me. By the last minutes or so I had lost my seat and their eyes were glued to the monitor.
It's great being able to share characters from when I was little with my kids. Glad to see the Chipmunks still making kids smile and laugh.
This post may conatain affiliate links.
(Visited 9 times, 1 visits today)