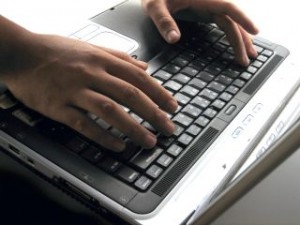 In such a heavily technology filled world is there such a place as a technology free zone?
I've always hated having technology in my bedroom whether it be a t.v. in the room or a computer workstation. It drives me nuts that the first thing my husband looks at in the morning is his cell phone and it's the last thing he checks before he goes to bed.  I realize though how important is it for him to stay in the know when it comes to work.  But to me these things just cause stress and keep your mind awake while it should be getting ready for rest and your body needs to not be overstimulated by these things.
Now that I think about it my mom was the same way.  She hated having a t.v. in the bedroom.  I refuse to allow a t.v. in our bedroom or our kid's room though.  Fortunately that is one battle I don't have to fight as hubby and I both agree on that.
As anti-tech in the bedroom as I am, I find that I had to eat my words when I realized that getting away from my work area and grabbing my laptop and sitting on my bed is when I get motivated to blog.  Guess cause blogging isn't work or maybe it's just work I enjoy doing I don't really consider it work.
Now don't get me wrong I have no intention of bringing the laptop to bed with me on a regular basis but on nights like tonight when hubby is up working late or just when he's at his work desk here in the bedroom at least I can be close to him and get some writing in.  I love being close to my hubby even if he is working.  And I also have no intention of technology take away some very much needed and wanted sleep time.
What about you? Where is your comfort spot to get some writing in if you blog or if you don't where is your place to work other than your work desk?
Do you have a technology free room in your house?
© 2012, Nanette Gomez. All rights reserved.