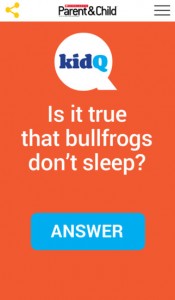 I have been asked and am being compensated to share information regarding the Scholastic Parent & Child kidQ app through this post.
As a parent I'm sure you are well aware of the importance of keeping the lines of communication open with your kids. That means having conversations with your kids and it doesn't always have to be serious conversations about life. Just talking to your kids about anything and everything will let them know you're there for them no matter what they want to talk about.
But all kids get to that point where you feel like you are pulling teeth just to get them to talk to you. I am at that stage in parenting right now. It's not fun but I'm determined. So, when I learned about Scholastic Parent & Child kidQ app for getting the conversations going, it of course peaked my interest. I downloaded it on my phone as it's available for both Android and Apple. You can too it's free! Download the kidQ app now.
I tried it out and the first question I got on the app was "Why are feet stinky?" I get a response like this from each of my kids: "'cause they are in shoes" and "they're dirty" and that was it. Not much of a conversation huh? I expected as much. Then I went on to read the explanation out loud to them and then the giggling and laughter started along with comments like, "eeewww gross!" and "eeww mom, I don't want to know that!" with a look that was just priceless.  And yes, it was a little gross but it got my kids actually talking and I bet they don't forget that either.
After I read them the answer there was a list of fun facts that followed which spurred on even more conversations. Not only is this good for starting conversations, but it gives you an idea of what your kids know and don't know. My son has a hard time coming up with topics for conversations and even conversing can be difficult for him so this is a perfect and fun way to get him comfortable talking. And no, not every question is about stinky feet in case you are worrying about that. We got one about a dog's nose and my animal loving daughter actually learned something new. Surprised even her. You get a new question everyday! We're having fun with it after dinner while sitting around the living room.
I think I may just start using this as part of our home school day and practice conversations on various topics. This could be fun!
Don't forget to download the kidQ app now before you leave. Get your kids talking and I'll bet you get lots of laughter along with it.
I have been asked and am being compensated to share information regarding the Scholastic Parent & Child KidQ app through this post. As always all thoughts are 100 percent my own.
© 2014, Nanette Gomez. All rights reserved.