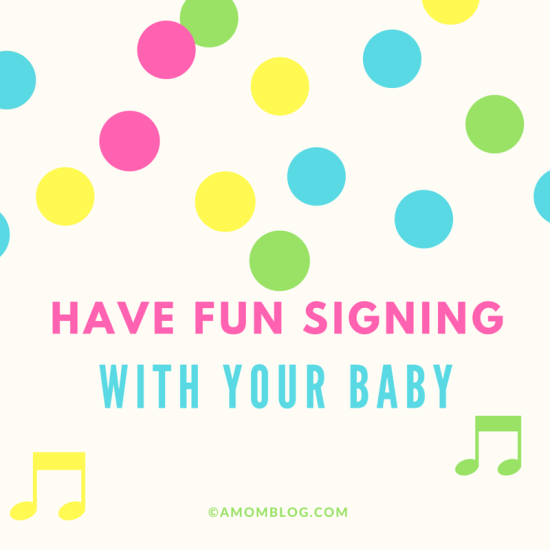 After learning the basic first sign language signs such as food, milk and more, you'll want to move on to something fun.
Sing and Sign
Babies just love to be sung to so why not try learning some signs for animals. Although learning signs for animals may not seem like fun signs to you, your little one will enjoy how you use them. It doesn't have to be a huge slew of animal signs either just a few simple farm animals will do. Think of "Old MacDonald Had a Farm". You'll only need a handful of signs like cow, pig and duck for that favorite. To a sign a song you don't need to sign every word. Use signs for just a few keywords, in this case, sign just the animal signs as you sing.
You can start out with just 2 or 3 animal signs depending on the attention span of your baby, then add more animal signs and make the song longer as your baby's attention span grows. He or she may even sign with you. I dare you to try it and not have fun.
Need some other song ideas? How about these: One Potato, Two Potato, The Itsy Bitsy Spider, Six Little Ducks. Which other ones can you think of?
Make Story Time Come Alive!
Story time is a most loved time and wonderful bonding time. I enjoy it with my kids. In fact, we still love reading together. Want to really hold your little one's attention, try animating the story. Animating a story will hold your child's attention better than just reading outloud most of the time. What a great opportunity this is to continue to teach your baby sign language.
Try short little stories or nursery rhymes to start with. Personally, I tried to see what stories my kids enjoyed listening to and then we incorporated the signs into the stories. We read and signed for such stories as The Three Little Pigs, The ABC song (which not only helps them learn the alphabet signs but also helps them learn their alphabet by hearing the song and each letter). Nursery Rhymes are great fun too. Pick out a few and give it a try. I'm sure both you and baby will enjoy story time a lot more with a little action going on. Have fun singing, signing and reading together!