I have been so busy trying to get ready and prep everything I haven't even had a chance to stop and tell you, I'm heading to Type-A Conference in Atlanta tomorrow! I've been to blogging conferences before but Type-A is a first for me.
I'm so excited for so many reasons.
1. I get to go thanks to winning Kelby's ticket giveaway.
2. I get to spend some girl time with so many friends.
3. I get to make new friends, in real life friends that I can actually hug! Yeah, I'm a hugger.
4. Learn, learn, learn. I can't wait to learn from other bloggers, others who I look up to and maybe even help someone who is just starting out.
Now, in order to not lose my mind, stress and worry about how hubby is doing with the kids, I did a little preparation work. Do you do this when you head out of town and leave hubby and the kids?
Now, I know the kids are excited when mommy goes out of town 'cause they figure daddy will take them out every night since daddy doesn't cook (and yes they told me that). Sorry kiddos not gonna happen!
For one thing, I don't want them eating out EVERY night. With food sensitivities,  that will only manage to stress everyone out. So, in preparation for that obstacle, I pre-made their dinner for one night. All they will have to do is warm it up. Crockpot cooking is so helpful. Easy enough. Hubby and I discussed options for another night and he had an easy idea that won't take much on his part and nothing to be cooked. Again easy enough. Two nights down! I figured on the last night, I'll be nice and let them go out to eat. Yay, dinner obstacles overcome!
Now for lunches, fortunately, I booked my flight late enough in the day that I can get up and pack Princess her lunch for school. So that will only leave one day for daddy to have to get up and get her lunch ready. To help move things along easily, I've decided to pack her lunch and put it in the fridge so all daddy will have to do is pull it out and stick it in her lunch box. And the snacks, I portioned out and they are ready to be dropped in her lunch bag as well. Not bad huh?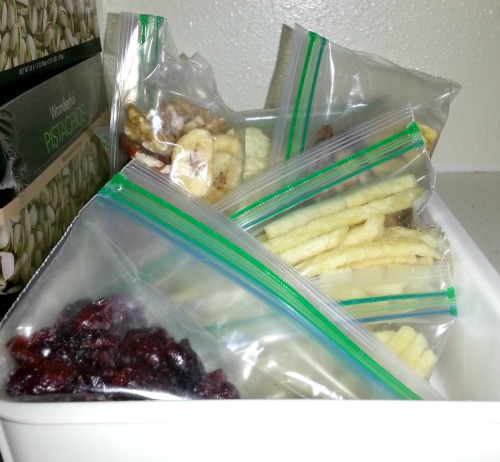 Now to get my suitcase all packed up and get me ready to go. That's the hard part.   Are you going to Type-A? Will I see you there? Come say Hi if you are, I'd love to meet you.
© 2014, Nanette Gomez. All rights reserved.