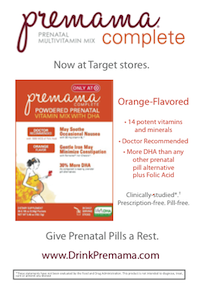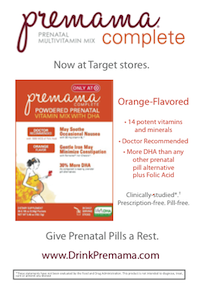 I wish I had had a product like the new PREMAMA Complete Prenatal Vitamin that TARGET is now carrying when I was pregnant with my little ones. Before anyone jumps to any conclusions no, I am NOT pregnant. That is just not going to happen folks. And this is not a sponsored post, I just remember having to take those horse-pill size prenatal vitamins. Not easy to do when you are so nauseated you really don't want to try and get those down.
TARGET is now exclusively carrying a product for expectant mommies called PREMAMA Complete Prenatal Vitamins in over 1,300 of it's stores nationwide. So you shouldn't have any trouble finding it. PREMAMA Complete Prenatal Vitamin is a Doctor-Recommended powder mix – the most complete alternative to prenatal pills.
PREMAMA Complete is an orange-flavored taken once a day multivitamin powder containing prescription-grade nutrients doctors recommend for fetal and infant health and development. It mixes right into your water or favorite cold beverage. It's not just good for baby, it also includes 30 mg of Vitamin B6 to help soothe occasional bouts of morning sickness. That alone would have been really nice with my second pregnancy. And to reduce the risk of neural tube defects it contains 1000mcg of prescription strength Folic Acid. Every single dose of PREMAMA Complete contains everything found in prenatal pills.
Why is it so many great products come out after I've had my babies? Well, maybe I don't get to benefit from PREMAMA Complete, but I hope you will.
Need more information on PREMAMA Complete or where to buy it? Visit DrinkPREMAMA.com
You can also find PREMAMA Complete on facebook, on Pinterest, on Instagram and on YouTube
© 2014, Nanette Gomez. All rights reserved.