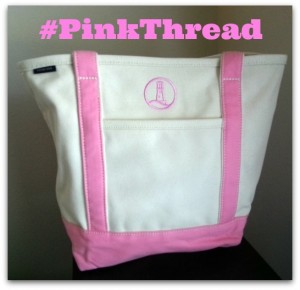 It seems like we all share a common thread of support when it comes to breast cancer. We have either been affected by it ourselves, one of our friends or a family member may have faced it. Personally, I have in the past and currently have both online and offline friends facing breast cancer and my own mom has fought her battle against breast cancer twice in a 20 year span. So yes, this is a very personal and very important cause to me. It's one I believe in supporting wholeheartedly.
And that's why I want to share Lands' End's #PinkThread project with you.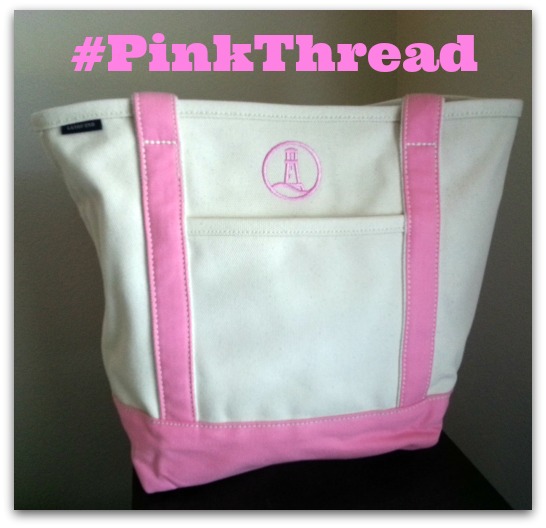 The #PinkThread project is a very simple way to bring awareness and support to Breastcancer.org which is an online resource for breast health and breast cancer information and support. Simply by ordering a applying on of six ink thread icons on any Land's End item that can be embroidered  75% of the embroidery application fee ($6) will be donated to Breastcancer.org. The Pink Thread project runs from now until October 31, 2014.
Here are some other ways you can bring awareness and show support for the #PinkThread project throughout the month of October:
Share Your #PinkThread – Share a photo/image of who or what your "Pink Thread" is in your life on Facebook (facebook.com/landsend), Twitter (@LandsEnd) and Instagram (@LandsEnd) and

Lands' End will donate $1 to Breastcancer.org for each photo posted (up to $10,000) using the hashtag #PinkThread.
Pink Thread Project Women's Swim Tee – Lands' End will offer an exclusive women's Swim Tee in pink and $5 of every purchase will benefit Breastcancer.org This pink swim tee can also be embroidered with a ink Thread icon and 75% of the application fee as mentioned before will also be donated.
Lands' End Pink in Stores – Lands' End will donate 10% to Breastcancer.org on the purchase of all fall/winter pink women's apparel and accessory items whether they be sold in Lands' End Shops at Sears or Lands' End Full Price stores.
For more information on the Lands' End #PinkThread Project visit landsend.com/pinkthread
I received the canvas tote pictured above as a gift from Lands' End. Thank you to Lands' End for being a sponsor of the Social Media on the Sand Conference at Beaches Resort Turks & Caicos.
© 2014, Nanette Gomez. All rights reserved.