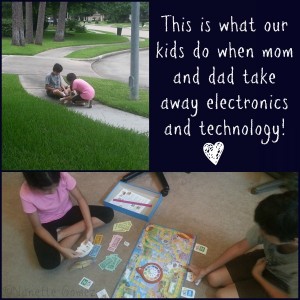 Yep, you read that right, "No more electronics!" I finally reached that point in parenting when I said enough was enough. Constant bickering. Picking on each other. Staring at screens for as long as they could possibly get away with. Taking a break from staring at the computer monitor by heading over and staring at the television screen. Moving from computer games to the Xbox or Wii. UGH! And yes, I admit that is my fault. I fall into that trap of, "I have work I have to get done" and it seemed like a good babysitter. I know I am not the only one guilty of that. But then family rules got broken and that was it!
No more.
No more.
NO MORE!
I can't take it.
The kids are off electronics/technology for an entire week! Drastic? Maybe, but come on it's summertime. Yes, it's hot! But for goodness sake, I really would like to look at my kids in the face instead of the back of their heads.
I want to see them play with each other both indoors and outdoors, talk to each other and just generally enjoy summer with each other. School will be here again before we know it.
Are they surviving without electronics and technology? Sure they are! Just like we did as kids. And they are being nice to each other and playing games together. These kids I recognize, but it's been awhile since I've seen them. I've missed this.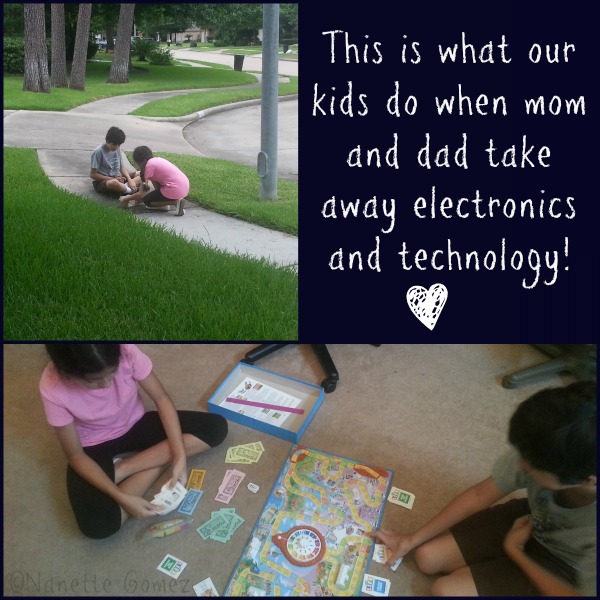 We talk and take walks, we find bugs, we go places and just enjoy each other. Sadly, I feel like so much time that should have been spent like this has already passed us by but no more. Today, I'm making a change for the better, for them, for me, for all of us.
© 2014, Nanette Gomez. All rights reserved.