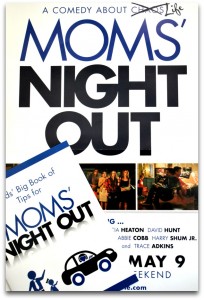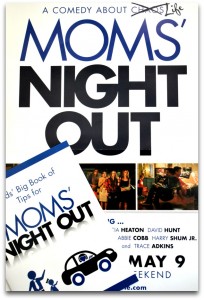 Last night I attended a free VIP screening of the soon to be released Moms' Night Out movie. It releases in theaters May 9th. Put that on your calendar, you will not want to miss this. And make sure you grab some girlfriends to go along with you.
Moms' Night Out is so funny and heartwarming and you just feel like someone read your mind. They were listening in on your own private thoughts, the stresses you feel, the times you want to just hide in the closet, the insecurities, everything.
As a mom who blogs, this movie was so right on track for me. I know so many other moms who blog that are going to relate to this movie on so many levels.
Yes, some of the events of the night are a little out there. I can't image any of that actually happening if I left the kids with their dad  but the message behind the film rang out loud and clear. As I sat there and the message really started to sink in I had to hold back tears. That was me up there.
Cause yes we do that to ourselves. I do it all the time. If you don't know what I'm talking about then you need to go see Moms' Night Out and you'll pick up on it real quick. It wasn't a sad, heart-wrenching movie but it hit home. Like I said, it's like they read my mind. They saw what we all hope others don't. But they took those feelings and gave them validation. They let me know, I'm not alone. I may not be perfect at parenting or the biggest blogger out there but I am valued and I do have something to say.
So first of all, thank you to my hubby for always making me feel valued. Thank you to the makers of Moms' Night Out for reminding me that I'm not alone and that it's ok to not be perfect. You found the perfect cast to bring your story to light – Sarah Drew, Sean Astin, Patricia Heaton, and Trace Adkins. And thank you to Maria Bailey and BSM Media for inviting me to the Moms' Night Out Special VIP screening. I had a blast and I'm looking forward to celebrating MomsNiteOut on May 8th!
Oh and here are just a few tips from the Dad's Big Book of Tips for MOMS' NIGHT OUT (pictured above)
DO

count the number of kids you have at the start of the evening.

DON'T

have fewer kids than you started with at the end of the evening.

DO

wrestle with your kids and roll on the ground.

DON'T

try this immediately after meals.

DO read your kids a calming bedtime story.

DON'T

let them watch Frankenstein before bedtime.

DO let them color a pretty picture for mommy.
DON'T let them color it on the living room wall.
Ladies, you might want to share those with your husband before you head out for your moms' night out. And I'm not too sure about that last one. You may change your mind after you see the movie. If you haven't seen the trailer yet, please take a moment to watch it:
I love it when I can have a little time for me then walk out of the theater and just want to run up and hug my kids and husband. MOMS' NIGHT OUT made me want to do that.
© 2014, Nanette Gomez. All rights reserved.