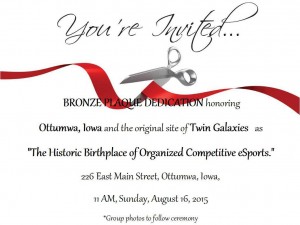 There is a very special event happening in one week and I wanted to extend this personal invitation to you.
This is a historical event in the world of eSports. Lots of eSports celebrities will be in attendance including Walter Day founder of the original Twin Galaxies, Billy Mitchell – The Video Game Player of the Century and the first achieve a perfect Pac-Man game, Joel West – Frenzy World Record and Steve Sanders just to name a few.
Please come and support Ottumwa's unique legacy as "The Historic Birthplace of Organized Competitive eSports. A 220-pound Bronze Plaque (35-INCHES WIDE BY 48-INCHES TALL) is being Dedicated at 226 East Main Street at 11AM on Sunday, August 16, 2015. There will be a ribbon-cutting ceremony and some words from the leaders of our community as well as words of support from visitors from other countries. There will be a BIG GROUP PHOTO of the crowd gathered around the Plaque, followed by a group photo specifically for the children who are there. This will be a unique memory that the children will share in common for the rest of their lives, and they will have this photo as a keepsake. Please bring your kids for the photograph. Remember, 11AM on Sunday, August 16, 2015. It's a day of CIVIC PRIDE for Ottumwa because no other city in the entire world can claim the distinction of being the historic birthplace of competitive eSports. And, incidentally, the video game industry has become the world's largest entertainment industry, now outpacing music, movies and sports.
Be a part of history in the making!
Thank you in advance to the Ottumwa Mayor's Office for their support in providing refreshments for this special event's attendees.
© 2015, Nanette Gomez. All rights reserved.