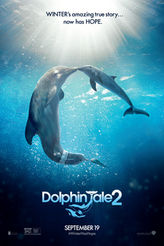 Are you as excited for Dolphin Tale 2 as I am? Dolphin Tale 2 stars Morgan Freeman, Ashley Judd, Mae Whitman, Harry Connick, Jr., Cameron Boyce and Zachary Gordon. As an ambassador for Dolphin Tale 2, Cozi Zuehlsdorff's new music video was shared with me. It's called Brave souls! It's really pretty. I had no idea she sang. It will get you even more excited for Dolphin Tale 2. Take a peek:
Wasn't I right? Aren't you even more anxious for the upcoming release of Dolphin Tale 2 on September 12th?
© 2014, Nanette Gomez. All rights reserved.