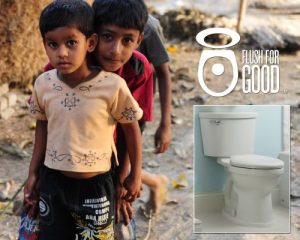 Today, November 19th is World Toilet Day. Did you know there was even such a thing? I didn't until I was approached to share some very important information with you regarding the global sanitation crisis.
Did you know:
Almost half the people in the world lack a safe way to go to the bathroom.
1.5 billion people don't have access to improved sanitation.
Every minute, 3 children die because of dirty water and poor sanitation.
About 85% of human waste goes directly into the world's rivers and streams.
Diarrhea causes 1.5 million deaths every year in developing countries.
Using WaterSense-labeled products save 6 billion gallons of water per year and more than $50 million on energy costs!
So what can you do?
Look for high efficiency toilets and the WaterSense label on toilets, showerheads and faucets when remodeling. For every Champion toilet sold in the U.S. and Canada this year, American Standard will donate one SaTo unit.
Like the Flush for Good Facebook page – American Standard will donate one SaTo unit for every 100 Likes or Shares on their Flush for Good Facebook page.
Take a pledge! on the American Standard Facebook page.


Download the Save Water Save Lives Ebook. It contains more information and tips on how you can save water everyday in little ways that can make a big difference.
Because I have chosen to bring to light the issue of global sanitation here on AMomBlog, twenty sanitary toilet pans (ten in my honor and ten in yours) will be donated. Thank you for taking the time to read this post and be a part of that donation. Together we've now helped twenty communities in need!  Feels pretty good doesn't it?
Now I'd like to give two AMomBlog readers the opportunity to win a $200 Gift Card to either Home Depot or Lowes (the choice is yours).  By entering you are agreeing to our giveaway rules.
This is a compensated post but all opinions as usual are 100% my own. While American Standard has provided promotional support in the form of prizes, American Standard is not sponsoring or administering the giveaway on this blog.Prize fulfillment may take four (4) to six (6) weeks from the date of winner verification. Winners names will be announced Nov. 26th and contacted via email and have 24 hours to respond or an alternative winner will be selected.
© 2013, Nanette Gomez. All rights reserved.