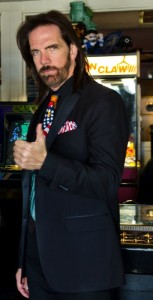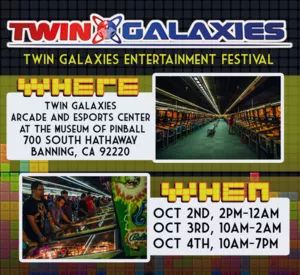 A new classic gaming and arcade festival will be held at the Museum of Pinball in Banning, CA on
October 2, 3 & 4, 2015! The Twin Galaxies Entertainment Festival tickets officially go on sale July
1st but we've got a special PRE-SALE VIP code just for you. Check out the special guest list too!
Your special VIP PRE-SALE CODE is: BillyMitchell
All day freeplay.
Access to almost 800 games
Live musical acts.
And, special guests.
Plus, there will be tons more:
All new tournaments and prizes.
Multiple food trucks.
Live putting tournaments.
Live basketball competition.
And, more than a few surprises!
The Early Bird VIP Ticket Package Includes: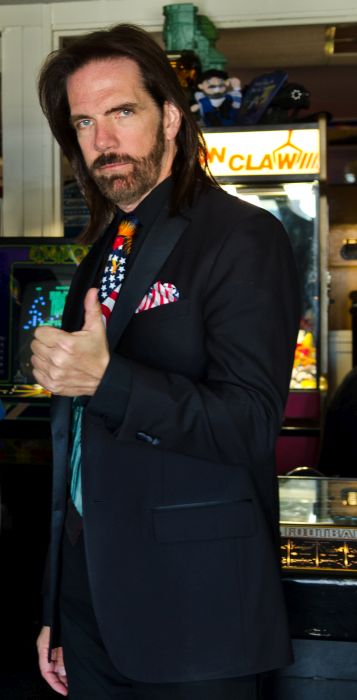 3-day admission (Value: $50/day).
3-day parking pass (Value: $10/day).
Custom VIP limited edition event lanyard.
VIP-only event t-shirt.
Advanced entry each day.
Access to VIP-only area at festival.
Special Guests:
Walter Day, Billy Mitchell, Jace Hall, Tommy Tallarico and more!
Event Dates & Time:
October 2nd (2pm-12am)
October 3rd (10am-2am)
October 4th (10am-7pm)
Location Information:
Twin Galaxies Arcade and eSports Event Center at the Museum of Pinball
700 South Hathaway
Banning, CA 92220
We'll keep you up to date as information becomes available!
Remember Your special VIP PRE-SALE CODE is: BillyMitchell
© 2015, Nanette Gomez. All rights reserved.