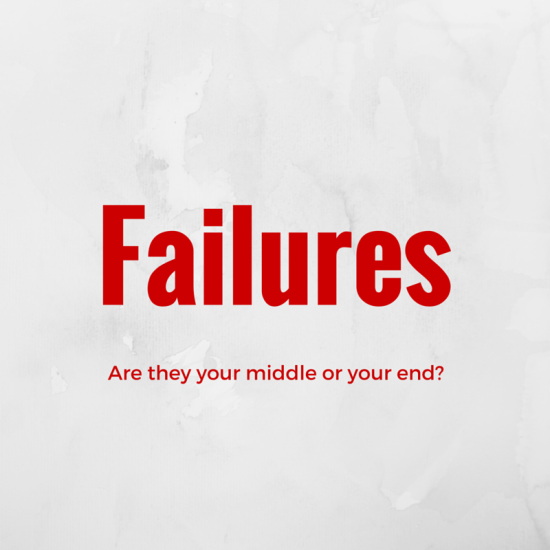 Failure, now there's a word I know all too well. Well actually don't we all? We've all failed at something big or small at one time or another. And if you say you have never failed at anything then you are lyinig to yourself because you know what, there are no perfect people. We all have, had or will have failures – in school, in relationships, in parenting, in the kitchen, in careers, in life!
No doubt, you've heard "it's only a failure if you don't learn from it" or "there can't be successes without failures". I guess it all comes down to how you view your failures.
Is it your middle? Do you fail at something, dust yourself off and then try again no matter how long it takes?
Or is it your end? Do you fail at something, give up and walk away from it never trying it again? Was it not worth trying again? It was apparently worth trying the first time.
Allowing failure to be your end, keeps you from growing. And you want to keep growing, I know you do. I want to too. Sure failure hurts. It bruises the ego, shakes your confidence, it can cause you pain but is that how you want your efforts to end? Do you want to never know if the next attempt would have been your biggest success or lead you to your greatest happiness?
If you can live with the "never knowing" and the "what if you had tried just one more time" then go ahead and let your failures be your end. You may be depriving yourself or others of something grand that will never be because you gave up after a failed attempt.
But if you're like me, yeah the failures hurt. Some failures hurt a lot but eventually you pick yourself back up, you dust off that feeling of self-worthlessness and you try again and again if you need to. Why? Because I'm not willing to let failure be my end.
Will you?