I was provided a copy of the film, Same Kind of Different as Me and a The Kindness Rocks Project Kit free of charge. This post may contain affiliate links which means I'll receive a very small commission if you make a purchase using a link. Don't worry, it doesn't impact the amount you pay at all.

SAME KIND OF DIFFERENT AS ME
I'm going to start off by telling you, I loved this movie so much as soon as it was over, I hopped on Amazon and purchased the book. I want my daughter and me to read the book before we watch it again together. Yes, this is a movie to be watched with your family. Not going to give away any of the story  'cause I want you to enjoy it as much as I did. But I do want to give you a little bit of information on it.
SAME KIND OF DIFFERENT AS ME is based on a true story of kindness and stars Greg Kinnear, Renee Zellweger, Djimon Hounsou, and Jon  Voight and is based on the New York Times Bestseller.  Not only will you be inspired by Same Kind of Different as Me, your heart will be filled with warmth by this movie as well.
I stated earlier that this is a movie, I would watch with my kids and you can watch with yours. Same Kind of Different As Me is rated PG-13, I want you to know that. But it also received the Dove Foundation seal of approval for ages 12+.
It's a beautiful movie about not judging people, looking beyond what you see on the outside and being kind. The fact that it's based on a true story just makes it that much more heartwarming.
National Random Acts of Kindness Day
National Random Acts of Kindness Day is February 17th and couldn't we all use a little more kindness in our lives? Of course, we could. Sometimes all it takes is a kind word or small gesture of kindness to change your day, week, month or even life.
The world needs more kindness. I'd like to encourage you not only to take some time and watch Same Kind of Different As Me but to also make some kindness rocks. Keep reading and I'll tell you a little about The Kindness Rocks Project. Not only will it give you a chance to spend some quality time with your kids, one of those messages you or your kids leave behind may just change someone's life for the better.
The Kindness Rocks Project
It's just what it says, kindness rocks. You paint a rock, add an inspirational quote or message and you leave it for someone else to pick up.  Wouldn't finding a uniquely painted rock with a word of encouragement when you need it most, sometimes unexpectedly make your day? Wouldn't a kind unexpected gesture make your day brighter? Of course, it would. And you can do it so easily.
Kindness rocks are so easy to make and it gives you one more opportunity to spend quality time with your kids and encourage kindness. Here's a quick "How-To" join The Kindness Rock Project. You may already have some of the items in your arts and craft box.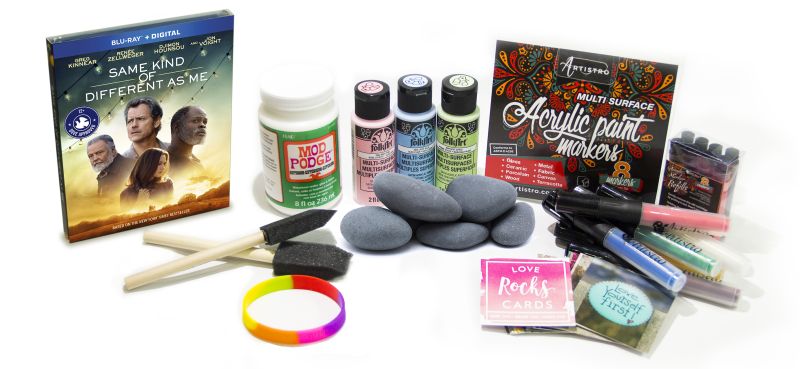 Gather your Kindness Rocks Project supplies
Here's what you'll need:
If you live in the city like I do, you can get some river rocks at your local craft store. 3″ to 5″ work best. You want them large and flat enough to write a message on.
Directions:
Step 1: Paint your rocks with a non-toxic paint. This will get them ready for your unique artwork and encouraging message.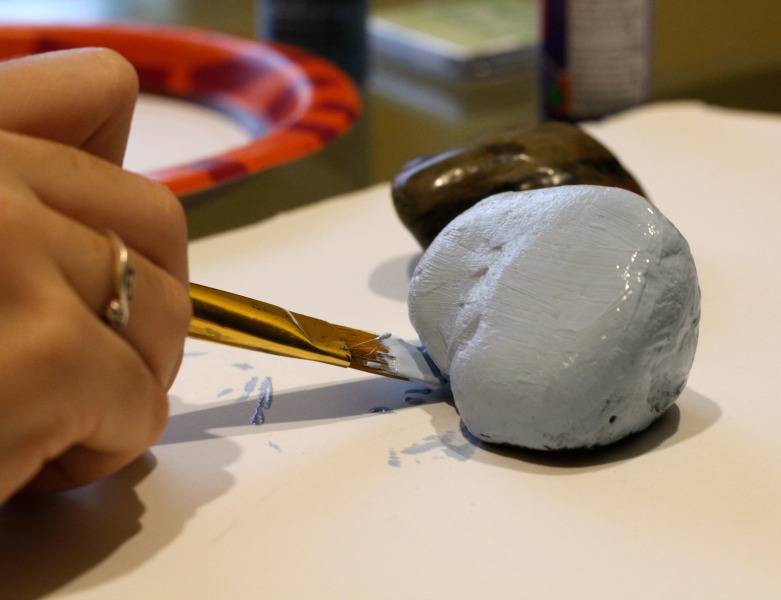 Step 2: Use oil-based paint markers to write your encouraging messages and artwork. We used acrylic paint markers since we're going to be sealing it in Mod Podge anyway.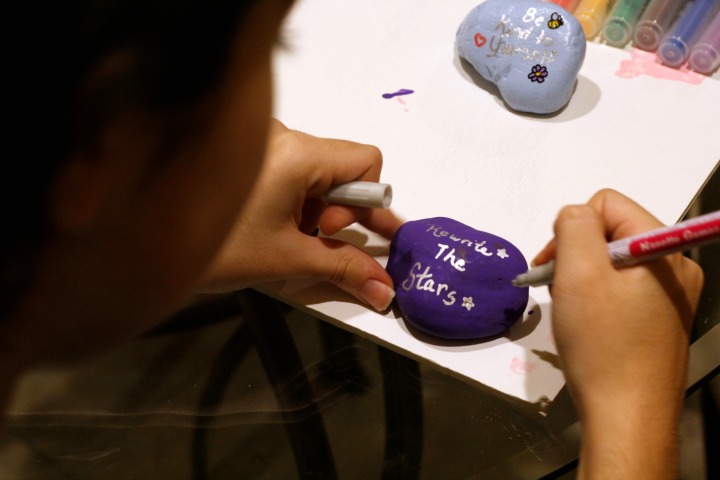 Step 3: Flip over your Kindness Rocks and add #THEKINDNESSROCKSPROJECT to the back of each rock. This way when others find your one of a kind rocks they'll take photographs of them and post them on social media which will encourage others to join in on The Kindness Rocks Project. Maybe you'll even be able to see how far your kindness rock reaches.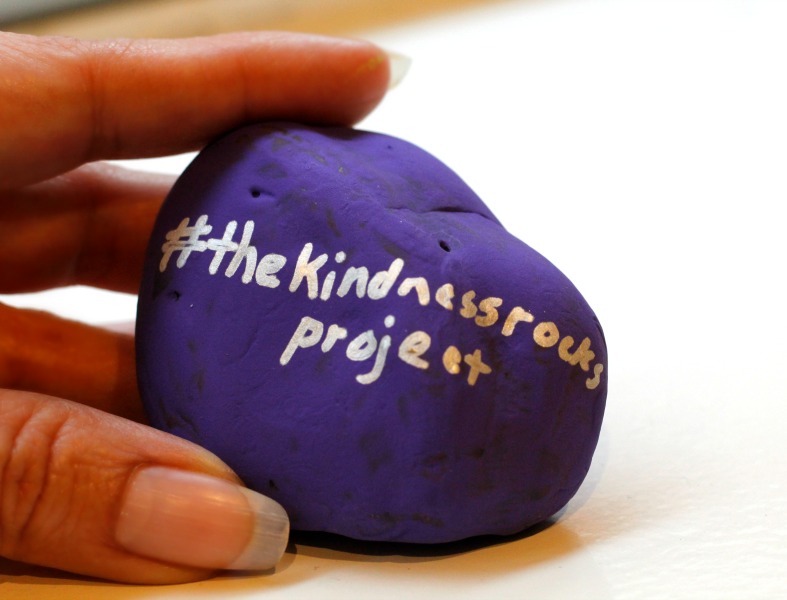 Step 4: Last step. Paint a final coat of non-toxic clear sealant on your kindness rock. That way your artwork will be protected from the outdoor elements and your rock won't cause any damage to the environment.

Spread Kindness
Create a kindness rock garden, leave a stone for someone to find or just give your inspiring words to someone you may know who needs the encouragement today.
Be Kind. Do something nice for someone. Make this a better place for everyone, not just on National Random Acts of Kindness day but every day.
And just one last quick reminder, respect the environment when you create and leave these inspirational rocks. Don't leave markers or paint for others to add inspiration they may not do it a respectful to the environment manner. Click here for more information.