I received complimentary tickets to Wet'n'Wild SplashTown for myself and my family in order to facilitate this review. This review is 100% my own thoughts. 
My family and I had a fun and very wet time at Wet'n'Wild SplashTown this past weekend. I hadn't realized that Wet'n'Wild SplashTown has been open for 32 years and that it's the largest water park in Houston.

Driving by I never realized Wet'n'Wild SplashTown was an 80-acre water park with 42 water slides and attractions.
"If you haven't been to Wet 'n' Wild SplashTown in the last year, then you are in for a treat," according to Rosie Shepard, director of sales and marketing.
This was our first visit and we certainly had a good time while we could. It wasn't too hot out which was nice but oh was that water cold!
Wet'n'Wild has something for everyone in the family – thrill rides, kids rides and family rides and a water play area for the little ones too!
For younger kids, Wet 'n' Wild SplashTown offers three areas including:
Wet 'n' Wild Jr.
Blue Lagoon Activity Pool
An interactive Tree House
There is also an abundance of life jackets available for your little ones. Please make use of them.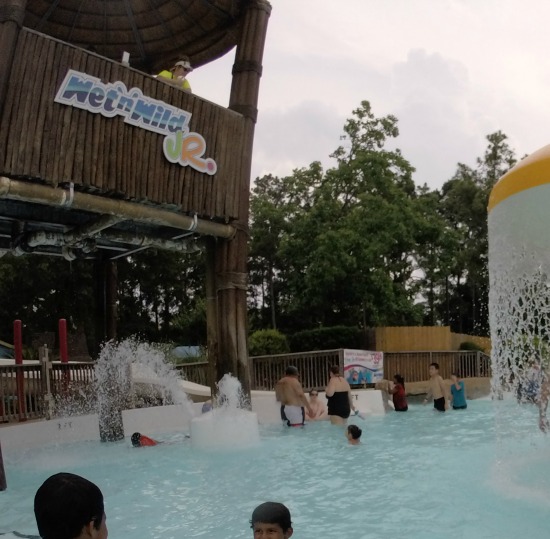 For older kids and adults, there are thrill rides: (just to name a few)
Texas Freefall
FlowRider
Big Spin
Brain Drain
And want to keep the family togetherness going, Wet'n'Wild SplashTown has rides for that too! Cause you know, the family that plays together… 🙂
Big Kahuna
Paradise River
Runaway Rapids
Stingray Racer
We stuck to the more tammer attractions though.
And if you need a break to build your energy back up from all the excitement and fun, Wet'n'Wild SplashTown boasts 11 restaraunts including Marble Slab Creamery. Perfect for a hot summer day in Texas. In fact, Marble Slab Creamery was on our to-do list but the weather just didn't hold out long enough for us and we got caught in a thunderstorm.
Visiting with food allergies
Because we have food intolerances and your family may as well, I want to share some information regarding that also.
THE PARK CANNOT, AND DOES NOT, MAKE ANY REPRESENTATIONS OR GUARANTEES WHATSOEVER REGARDING THE ALLERGY-FREE CONTENTS OF ANY FOODS OR BEVERAGES. At a minimum, guests with allergy concerns should avoid any foods or beverages unless they are packaged, and you are 100% confident in the manufacturer/supplier which has provided the Park with such food or beverage. Foods that are in any way unpackaged, prepared, or handled by the Park (as opposed to packaged goods, provided to you in a sealed package), have a higher risk of contamination with other products containing allergens, so in the interests of your safety, we strongly urge you to avoid all such unpackaged products provided by the Park.

Personal Food, Beverage and Coolers – In any event, guests may bring personal foods into the park, to the extent that they are medically necessary (e.g., for diabetics, baby formula for infants, gluten-free foods, or allergy-safe foods for allergies). Please make guest relations aware of your need to do this prior to entering the park. For the safety of our guests, no glass containers are allowed and coolers will need to be checked for contents. https://www.wetnwildsplashtown.com/plan-a-visit/dining/
My daughter went on a field trip to Wet'n'Wild with her classmates recently. Due to her food allergies I baked snacks I knew she could eat. At the end of the day she called me and informed me that she was starving because the snacks I made for her were taken away from her at bag check before she even entered the water park. As you can imagine I was not happy about this. I contacted the water park and got an apology and was told they would speak to their staff.
So, when we went as a family I informed the bag check staff immediately that I understood their policy on bringing foods in the park but we had food allergies and asked who we needed to speak to. They very politely pointed us in the right direction, asked to see what foods we brought and provided us each with wristbands that made it clear to any other staff that we had food allergies.
A couple of things I'd suggest, if you are going for just one day please be sure to check the weather. We got rained out after about 2 hours in the park. They quickly got everyone out of the water which I was impressed with. However, their rain policy does not allow for rain checks. To me that's a lot of money to be out of for only 2 hours for a family of four.
Things to know ahead of time:
Rain policy – According to one staff member you can wait 30 mins to see if they re-open the attractions But in our case, we could just tell this wasn't going to be one of those quick showers and it wasn't.
Parking – is $10
Locker Rental – A small locker is $10, a large locker which we used held 1 bag with 4 towels in it and a few tops and shorts was $15.
Tube rental – If you want to float down the Lazy River, you'll need to rent a tube for $6 and carry it with you all day.
I see now why so many were in line for the season passes. It makes much more sense and in the long run comes out to be quite a money saver even if it seems a bit steep at first. And you can sometimes find deals that include a season parking pass.
So if you want a place to take the kids just to cool off from the summer heat Wet'n'Wild Splashtown might just be what you are looking for.