I recently received the Tricky Words & Phrases Teaching Cards – Set 1 free of charge from Lakeshore Learning to try out with my son. No other compensation was received. This review is 100% my own thoughts and opinions. This post may include affiliate links.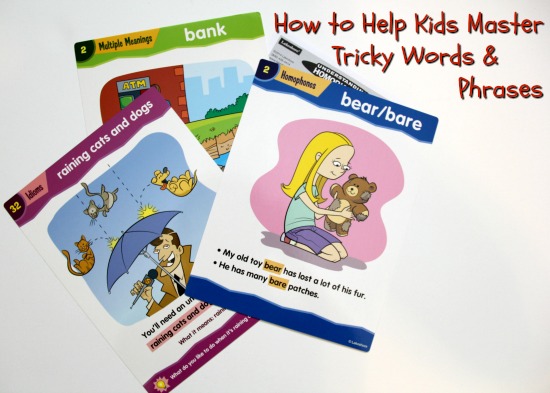 Even before becoming a homeschooling mom three years ago, I have always been on the look out for tools to help me teach my son and/or reinforce what he was learning. For some kids with an Autism Spectrum Disorder (ASD) language can be very difficult to understand.
My son is a visual and concrete learner. Everything is black and white to him. There is no gray. It's either right or it's wrong. If the clock says it's 6:29 and you say it's 6:30 he's going to correct you and tell you it's 6:29. He takes everything literally. That can be challenging and even frustrating on my end at times.
Now keeping that in mind, think about language arts skills such as idioms, homophones and multiple meaning words that can't be taken literally. Even for typical children these skills can be difficult. Can you even imagine how hard these skills are to learn for a concrete, have to be able to see it type of learner like my son? It's not easy but these cards help. This is the Tricky Words & Phrases Teaching Cards – Set 1 from Lakeshore Learning. They are a set of 120 7″ x 9″ cards within 3 sets – Understanding Multiple Meanings, Understanding Homophones and Understanding Idioms.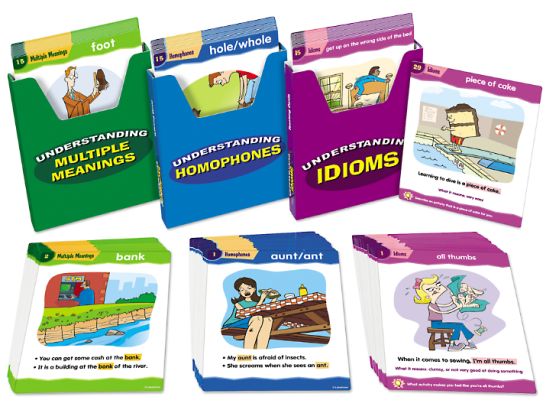 We've been working on idioms in Language Arts here at home and in his speech therapy sessions for some time now. With summer coming up, I wanted to make sure we could keep him on track with what we have learned so far and continue mastering the skill.
Understanding Idioms
Each card has a funny, colorful illustration depicting the idiom stated at the top of the card.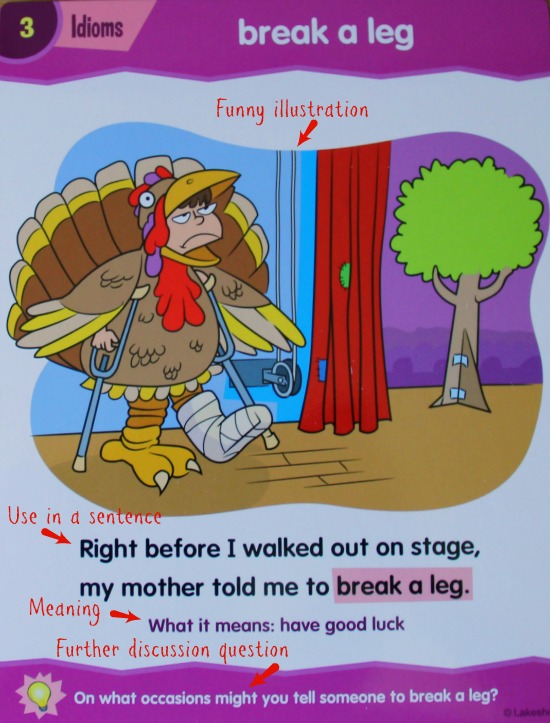 It shows just how silly it would be if the idiom were taken literally word for word which is how my son is probably picturing it in his brain to begin with. Below that is the idiom being used in a sentence and then the idioms meaning. This will help him not only recognize the statement as an idiom but it also helps him understand the true meaning of it. Plus at the bottom of each card is a discussion question. This keeps our discussion going and we aren't just going over the card once and moving on. It also helps me to be sure that he truly understands how to use the idiom correctly in a real life situation.
 Understanding Homophones
Teaching homophones increases vocabulary and teaches children how to use the surrounding context to determine the correct meaning and how the same sounding words are used in different situations.
Once again the colorful illustrations come into play for visual learners. They help children grasp the concept if they can see both, all three or even all four homophones and how they are used in sentences. Understanding homophones help practice context clues as well which is another skill my Bug is working on.
Understanding Multiple Meaning Words
Words with multiple meanings are another area that can be very tricky and a difficult skill to master for children with an ASD. Fortunately my Bug is now at a point where he is asking me what words mean when he comes across a word that has more than one meaning. I remember a time when he didn't.
Again having a brightly colored illustration  helps with the understanding of the words. This set illustrates both uses of the same word and provides a sentence for each below the illustrations.
For visual learners the Tricky Words & Phrases Teaching Cards Set's  funny and colorfully illustrated cards are perfect. They take words that can't be taken literally and turn them into funny visuals kids will remember. They use illustrations to visually teach words that have more than one meaning. All of which increase vocabulary and help children learn to use context clues for understanding words and phrases.
So as you can see it's going to continue to be a great tool for not only understanding homophones, multiple meaning words and idioms, we'll also be building vocabulary skills and the use of context clues this summer. I'm looking forward to another summer of learning and I'm sure these Tricky Words & Phrases Teaching Cards Set will help these tricky words not be so tricky anymore.
This post may include affiliate links.