That's exactly what I told my daughter this morning. "Disney isn't just for little kids." You see, we had some time before school and so I told her to bring her library book over and we could read. It's a book with lots of chapters and she was afraid we wouldn't get through it just reading a chapter before bedtime before she had to return it. So we sat together and read it for a bit. But before giving it back to her I noticed a page at the back of the book with other titles and asked her if there were any of these books in the library and which one we'd read next. I was excited about reading this series with her. She pointed at one and said I wanted to get that one too but … And they she stopped.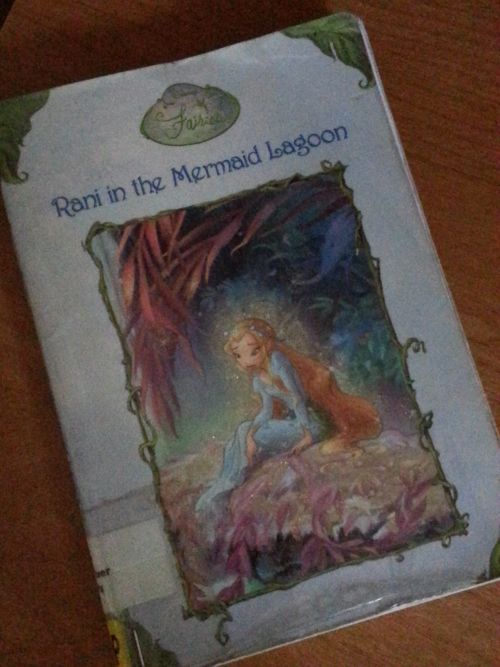 So I asked her why she didn't get the book and she looked downward and with a sad face said "the other girls will make fun of me, cause they are baby books about Disney fairies". I stopped in my tracks and had to remind her that Walt Disney created Mickey Mouse as an adult, all the people that work at Disneyland and DisneyWorld are adults. They are big people, not babies.
I wanted to explain to her that there is a whole slew of people who love Disney and Tinkerbell and they aren't all kids. Disney's magic isn't just for kids and I want her to know and understand that she isn't alone. Lots of us love Disney. Heck, I'm wearing my DisneyWorld shirt right now and my son's TRON jacket. And even I have a bright pink Tinkerbell T-shirt, I love to wear.
I had her take a look at the book and see that they aren't "baby" words, these were good size books with lots of chapters to read and a good storyline. And I reminded her too not to let anyone's opinions keep her from doing what she wanted to do or read. Just think what a loss it would have been had Walt Disney never drawn Mickey Mouse (Steamboat Willie) for fear of someone else thinking it was a "baby" thing to do. How sad that would have been had he allowed someone else's opinions to keep his dreams from being a reality.
(Visited 9 times, 1 visits today)