I've been sharing with you over the last few weeks about Disney Social Media Moms Celebration 2012.  Thank you first of all for allowing me share it with you. It was an amazing time from beginning to end.  I listened to speakers talk about going outside our comfort zone and how nothing exciting happens within it.  I heard speakers talk about facing our fears.  We hear all the words but do we take action on them? Sometimes we do, at other times we hear it, think to ourselves "yes, I need to do this" then we stay in our comfort zone and don't do a thing.
But do you know what drove this point home for me? It wasn't the speakers, it was was something totally unexpected. It was my son.  I saw him face his fears and the challenge he set for himself.  No he didn't take on the thrill rides, he didn't go on the scary rides or roller coasters.  It was much more subtle but amazing and poignant for me none the less.
At Magic Kingdom there is island called "Tom Sawyer Island" and so we took the ferry over to it to take a look and walk around.  There was a mine which was narrow and dark and this with it's slight echo was trying for my Buggy but there was no going back and so he continued on.  Then as we walked further we noticed a barrel bridge.  It was wobbly and unsteady.  Daddy and sister immediately headed over.  Sister will try just about anything that girl.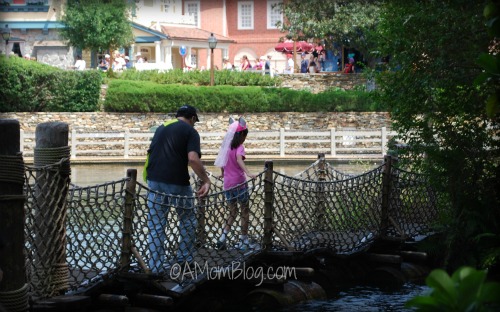 Buggy and I stayed on the land by it and watched.  As a few others went behind Daddy and sister somewhere inside Buggy he made the decision to give it a try.  "Mommy, I want to go across. Just hold me." I asked if he was sure and he said yes and started out. So we walked along the bridge slowly but surely and when he got to the end he looked back at me with the biggest smile and excitedly said, "I did it mom! I did it!"  He sure did. We celebrated as I tried to hold back tears. A fear faced, a challenge won!  Buggy 1 – fear 0
I thought this was it and we were both so proud then he surprised me and said, "mom I want to do it again but this time don't hold me" again I asked if he was sure. Of course he said "yes, come with me but don't hold me".  So I quickly called over to my husband and told him to pull out the video camera, Buggy was going to do this on his own and I don't want to miss it.  YES!  He did it! He got all the way across this barrel bridge on his own!  Buggy 2 – fear 0
He found the strength and courage to do what I'd heard. Step out of your comfort zone. He put it out there for me to see and learn from.  If my son can do it so can I. He has always been my inspiration and again he has proven why.
I paid a fee to attend the Social Media Moms Celebration at Walt Disney World. As an attendee I received discounted rates and additional perks enhancing the magical Disney experience. I was not asked to blog about my experience. As always all thoughts in this post are my own.
© 2012, Nanette Gomez. All rights reserved.