I'd heard about the benefits of iPads and special needs kids a lot as I'm sure you have. But I didn't realize just how much till I got one for my son. It has been a great tool for helping him with sentence structure, pronunciation and social skills which many children with Autism Spectrum Disorders struggle with.  Here are our top five favorites: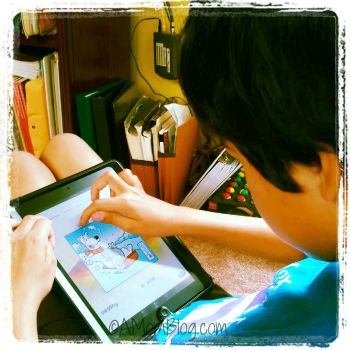 Rainbow Sentences- 3 levels of difficulty, line/word color coding, word grouping. Also provides the ability to record the correct completed sentence. The program also provide correct answer reinforcement by giving the child a puzzle piece after the completion of a set of sentences. You can also email the stats to yourself for your records or to your child's teacher or therapist. You know how we track everything!
Articulation Station – provides the opportunity to place the needed sound in three separate positions (beginning, middle and end) in the word and in various types of situations (i.e. sentences, paragraphs). You are also able to record and play back how your child pronounced the word.  My son didn't particularly like doing this as he knew he'd have to try again if I didn't think he pronounced it properly. But it did help both him and I hear how he pronounced the words.
ArtikPix – Flashcards and a matching game. The flashcards allow you to choose the position (beginning, middle or end) of the sound to be studied such as "th", "ch", "sh", etc. A picture is shown with the written word below it. You can also have the word used in a sentence. The word or sentence is  then spoken. Then your child can record themselves saying the word and listen to the playback. You can track by either clicking  the happy or sad face. (There is also a lite version).
Social Skill Builder – This program show a real life situation our kids may face at school and then asks questions regarding the situation and how they interpreted the situation. This give you the chance to discuss situations that may arise and how to help your child to understand them.
Hidden Curriculum – My son is so black and white.  There is no gray area with him which sometimes I will say I truly admire about him. But there are social situations or certain phrases such as "pulling the wool over your eyes" or policing others including adults when they are doing something he has been taught is wrong. Our kids don't get the unspoken rules of being social.  The app has several such situations to help our kids know what those unspoken rules are.
I'm going to add one more but because it was used by the school speech therapist and my son really loved. It is pricey though. The Social Express – This program uses illustrated situations to help our kids learn facial expressions as well as coping methods for different emotions they may be feeling. My son loves it. It's pricey but if you can suggest it to your school or private therapist they may be able to purchase it to use with your child.
I'm always on the lookout for more great special needs apps. Are there any you would suggest or recommend?
© 2012, Nanette Gomez. All rights reserved.