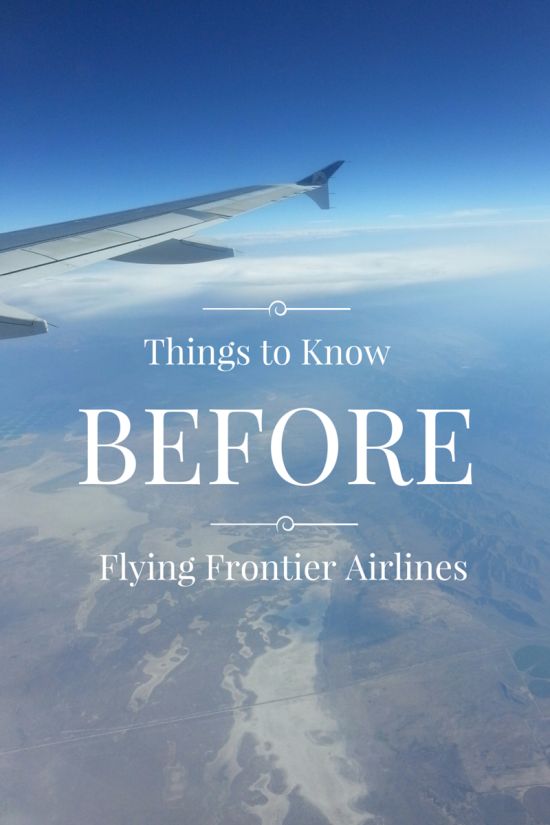 You know what they say, you get what you pay for. Well, when it comes to flying you really need to make sure you aren't overspending to get to your destination and even more important that you get to your destination when you need to.
Recently we decided to take a spur of the moment trip to San Francisco, California. Spur of the moment doesn't always lend itself to great airline prices. Since it was just an overnight trip I figured we might be able to catch a flight without too much expense since I wouldn't need more than an overnight bag. I used my usual flight search techniques and came up with a much lower priced flight than most other last minute flight options with the perfect arrival time on Frontier Airlines.
Now, I'd never flown Frontier before so I wasn't really sure what to expect when I saw that lower fare. Here are some things you need to know before you book your flight on Frontier Airlines.
Personal items. You are allowed one personal item that will fit under the seat in front of you, which is the case with most airlines. The space you have isn't very deep. Their size limit on personal items is no larger than 14″ high and 18″ wide.
Carry-on fees. You will be charged carry-on fees for your luggage on each leg of your trip. So, if you take a carry-on say to San Francisco you'll be charged a fee of $35 from your point of departure to San Francisco and another $35 from San Francisco to your return destination. That is, if you purchase that at the time of booking. If you do it after that, the price increases each way up to $60 if you purcahse your carry-on at the gate. Side note: If you purchase your carry-on bag you get placed in Zone 1 and get to board first (after families with small children and those who may need assistance).
Make sure your carry-on item meets their specifications: 10″ depth, 16″ wide, 24″ long and weighs less than 35 lbs.
Checked baggage fees. Which of course I would expect. 1st checked bag is $30 which is better than the carry-on pricing but I've had luggage lost and tend to avoid that option whenever possible. Again, make sure your luggage meets their size and weight requirements: 62″ collectively Length+width+depth.
Seat selection fees. If you have a traveling companion or are traveling with family members and would like to sit together, there's a fee for that too. Seat pricing ranges from $5 – $24 per seat per flight. That can add up. The website doesn't make it obvious but you can opt to not select a seat and one will just be assigned to you. This would be a money saving option should you be traevling alone or are not particular about where you sit.
No complimentary drink service. You can purchase drinks and snacks. Prices range from $1.99 for a can of soda or bottle of water to $2.99 for a snack (ex. pack of M&M's, small bag of Chex Mix, etc.) to $6.99 for alcoholic beverages. They don't make it obvious but you can ask for a complimentary cup of water.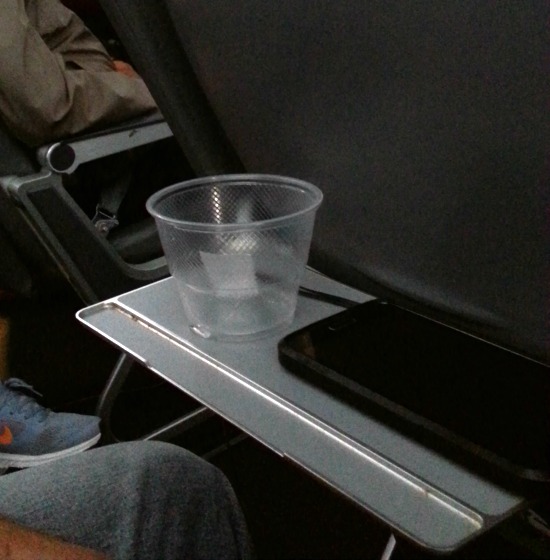 Seat do not recline. Only 3 rows of seats reclined on the airplane we flew in. The seats were at a slight angle so you might be ok with that. On the other hand, if you hate it when people put their seat back and you get squished you might like the fact that the seats don't recline.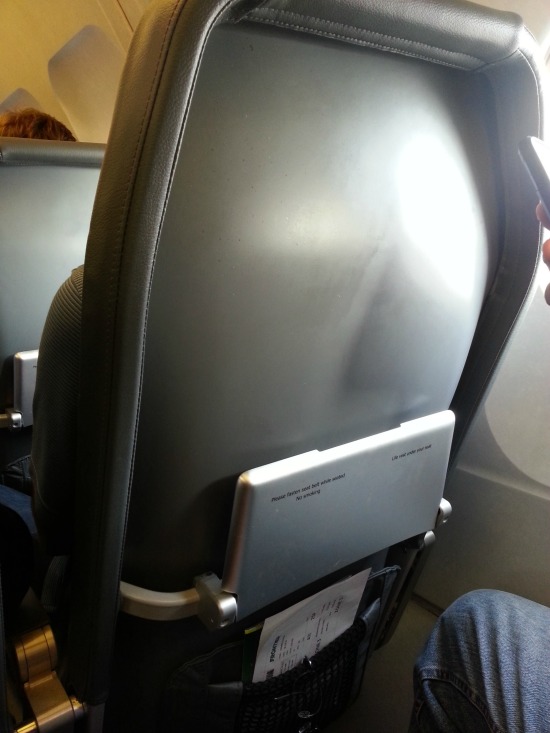 Arm rests do not fully lift. This can be uncomfortable for larger individuals or for those who don't like to have the armest between them and the person next to them.
Tray table is very small. How small? Well this picture should give you some idea. It wasn't even big enough to put the phone on completely unless of course you turned the phone sideways. I saw one person trying to use her laptop on it and the majority of the laptop was well, on her lap instead of on the tray table.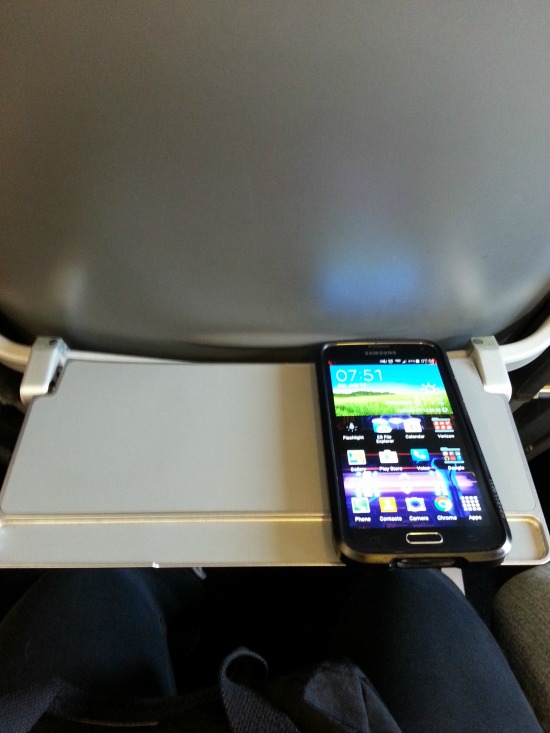 Worst airline On-Time performance. If you have plans to be somewhere at a particular time be aware that Frontier Airline only has a 74% on-time arrival rate. *The U.S. Department of Transportation's Bureau of Transportation Statistics (BTS) released its report on November 2015* I heard so many complaints from those flying home about the disaster they encountered on their departure flight. One person said her flight was delayed 6 hours and she missed items on her itinerary that had been prepaid. Another missed a very important meeting. I can only imagine their frustration. I would have been too.
After all those added expenses are you really saving money on your flight or is it averaging out to be comprable to the other airlines? Double check before you book that flight that looked too good to be true. It might just be.
In our case, this time it was the only option and thankfully it worked out for us but next time, I might just have to put that "spur of the moment" to travel urge on hold or take it on the road instead.
(Visited 542 times, 1 visits today)