Mother Nurture Enhanced Waters and Truffles are products created by a mom for moms. That makes me feel good about sharing this with you. I love why Mother Nurture was created. Mother Nurture creator, Maria Bailey says, "It was my goal to provide expectant mothers with a way to stay hydrated with a little flavor and extra nutrients for her baby. When she wants a treat, I don't want her to feel guilty so I created chocolate truffles that are only 70 calories each and contain DHA and Folic Acid for her baby".
I wish she had come up with this idea when I was having my babies. I don't know about you but I got sick of plain water.
And what expectant mom wouldn't love some Milk Chocolate or Dark Chocolate Raspberry Truffles. Almost makes me wish I was pregnant. I said, "ALMOST".
Save on Mother Nurture Truffles and Waters!
The reason I'm talking to you about Mother Nurture is now you can buy both the Enhanced Waters and the Enhanced Chocolate Truffles on Amazon.com. Who doesn't love shopping on Amazon right? And it gets better, 'cause now I've got some coupon codes for you. You can get $1 off the Enhanced Chocolate Truffles, $2 off the Enhanced Waters or $5 off the Enhanced Waters when you purchase the Enhanced Chocolate Truffles at the regular price. Go take advantage of the sale! If you happen to know an expectant mommy, I'll bet you'll be on her good list if you get her some truffles.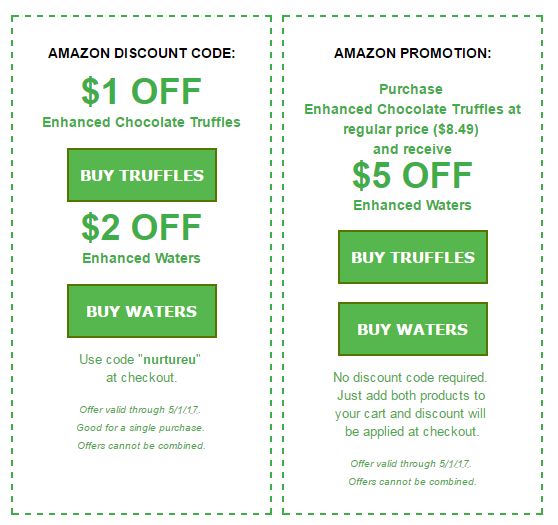 You can find out more about Mother Nurture products by visiting www.MadeByMotherNurture.com
(Visited 36 times, 1 visits today)