This past weekend I was fortunate to be invited to be a guest to learn not only about blogging but also about Invisalign. This is something I have been looking into for a while now. So when given the opportunity to learn about Invisalign from an orthodontist, Dennis E. Halford DDS MS, who is trained in its use and his teen patients, I was not going to pass it up. And on top of that, I get to share that information with you and get compensated at the same time. I took lots of notes, but I'll just give you the highlights and the reasons why I would love to try Invisalign for myself.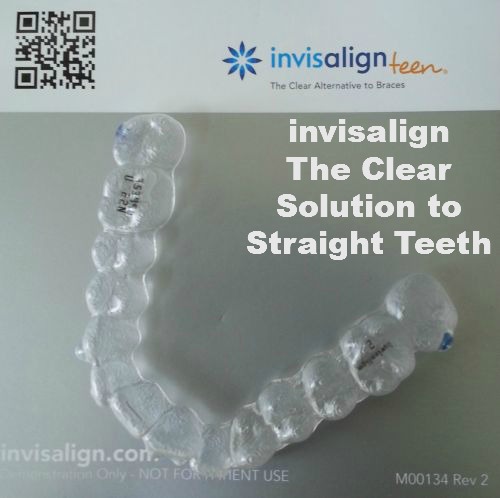 The benefits of Invisalign:
They are removable unlike the metal braces of days gone by. That means you can eat what you want. No more restrictions on popcorn, granola bars, chewy candy, etc., plus brushing your teeth and keeping them clean is easier. Thus making  your dental hygienist's job easier too.
Less pain. Metal braces and adjustments hurt. They just do. Not just when the adjustment is done but the wires on the teeth do tend to cut into your gums and the inside of your mouth – cheeks, lips, etc. I know I've been through that pain. I can't even tell you how much wax I went through with mine.
Less frequency of appointments and length of time at them. I remember having to go every week to get my braces tightened. That meant a lot of time I'd have to miss classes or work time to make my appointments. Which by the way, took anywhere from 30-45 minutes on average. The appointments for Invisalign are much more spaced apart. 8 weeks according to Dr. Halford and the typical amount of time in the chair is 15 mins. That's a lot less missed class and/or work time. A good thing for both parents and students.
Like I mentioned earlier, I also got to hear from Dr. Halford's patients. They weren't anything like I was when I had my braces on. I was so self-conscious and didn't smile 'cause I just didn't feel pretty with my braces on. As teens or young adults no one wants a mouth full of metal. These kids were smiling from ear to ear with their aligners on. They were proud of their smiles and both were still in the process and had some time to go.
Invisalign and self-esteem. One of Dr. Halford's patients told us of a teen friend of hers who has the metal braces and she doesn't smile and wishes she had Invisalign. I believe that, cause I've been there too. I don't know if I even have a photo of myself actually smiling within those 2 years I had my braces on. That's pretty sad now that I think about it. As teens we always worry about what we look like. A mouth full of metal did not make me feel pretty, in fact it probably did the opposite and made my self-esteem even worse.
Cost. Can you put a dollar amount on your child's smile? or his or her self-esteem? I've checked out the pricing and really it isn't much different than the price of metal braces.  And Invisalign is covered by most insurance companies as it is considered an orthodontic appliance.
Simple or complex issues. Whether you have just a few teeth out of alignment or need some major adjusting, Invisalign might be an option. You can take the Invisalign Smile Assessment to find out. Check with a physician who is trained/certified and uses Invisalign to find out. There is even a handy Invisalign Doctor Locator available to you.  Do you know of anyone who has used Invisalign? If you do, what did they think? I'm curious 'cause I am ready to get in to see if Invisalign might be an option for me!
(Visited 15 times, 1 visits today)