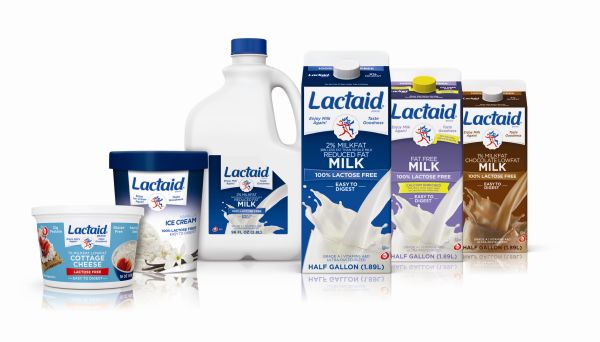 I was invited to learn about Lactaid with Registered Dietician Michelle Harrington and Celebrity Chef Melissa d' Arabian hosted by TheMotherhood.com. Lactaid, in case you didn't know, is a lactose free milk. Now the reason I agreed to be a part of this particular paid campaign was because in my family we've discovered several family members have issues with lactose. We never had any issues when we were younger at least not that I remember, but as my dad got older he has developed issues. My daughter and one of my nephews also seem to have issues with lactose. So I like to learn as much as I can about health issues, especially those that affect my family.
Michelle Harrington, R.D. shared lots of information regarding Lactose – what it is and what being lactose intolerant means. Simply put, lactose is the major carbohydrate in milk and other dairy foods. It consists of two simple sugars – glucose and galactose. Now this I didn't know: "it is common for lactose intolerance to be progressive; many people develop a lactose intolerance later in life." I'm guessing this is what happened to my dad.
So what do you do if you can't have dairy?
Lactose free dairy products such as LACTAID products can help people who have a lactose sensitivity to digest dairy without stomach discomfort. LACTAID is more than just milk their lactose-free products include milk, chocolate milk, cottage cheese, eggnog and ice cream!
A few facts about LACTAID milk:
LACTAID is real milk – 100% lactose free.
Due to the lactase enzyme added to the milk to break down the lactose, the taste is slightly sweeter than regular milk.
LACTAID products are calcium enriched.
We need about 1000 mg of calcium every day. LACTAID provides 500 mg of calcium in each 8 oz. glass. A regular 8 oz. glass of milk only contains 300 mg of calcium.
LACTID products include: milk, chocolate milk, cottage cheese, eggnog and ice cream which is available in 5 flavors: Chocolate, Vanilla, Cookies & Cream, Strawberries & Cream and Butter Pecan all of which are gluten free with the exception of Cookies & Cream. Nutrition facts can be found here: http://www.LACTAID.com/products
Tips for eating with Lactose Intolerance:
If you are lactose intolerant and consume lactose containing products on an empty stomach you are more likely to feel the effects of the intolerance. Eating lactose with other foods will help you digest it easier.
Yogurt with it's live and active cultures help digest lactose. Greek yogurt has double the protein and fewer carbs, meaning less lactose and thus is easier to digest.  So, if you can tolerate it, it's a great way to get nutrients and the calcium you need.
Now when it comes to cheese: the harder the cheese, the less moisture or whey it contains resulting in less lactose. Aged cheeses such as Cheddar, Pecorino and Swiss have less lactose.
Melissa d' Arabian, mom of four girls, NY Times best selling cookbook author and Celebrity Chef & Television Host offered these tips.
LACTAID cottage cheese can be used in various manners: add veggies or pesto to it; use in enchiladas or lasagna, add applesauce, peaches or other fruit to it. She herself likes to blend it in the food processor with an egg so it taste like ricotta.
Melissa also says that when cooking with LACTAID even though it has a slightly sweeter taste, no one typically notices when it's been added to a recipe. Simply swap LACTAID for regular milk in recipes, cup for cup.
Now for that giveaway I mentioned. Would you like to try LACTAID?
Simply leave a comment by May 17th letting me know you'd like to give LACTAID a try and you'll be entered to win a coupon for a FREE LACTAID product!
(Visited 222 times, 1 visits today)