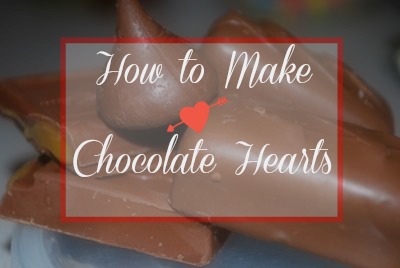 Here's all you'll need:
8 (1 oz) squares milk chocolate
How to Make Chocolate Hearts:
Place the chocolate squares in a microwave-safe bowl.
Microwave on high 1 minute. Remove the bowl and stir.
Continue at 30-second intervals until the chocolate is completely melted and smooth being sure to stir after each 30 seconds.
Allow the mixture to cool about 5 minutes.
Lay wax paper on a flat surface and spread the chocolate mixture on the wax paper to desired thickness.
Place the chocolate on the wax paper in the refrigerator for 10 minutes or until the chocolate is firm but still pliable.
Remove and place on the flat surface.
Use heart shaped cookie cutters of different sizes to cut out the solid chocolate hearts.
Serving Size: 24 to 32 hearts
As a little extra touch, you can add a little flavoring such as orange, lemon or raspberry to the melted chocolate making it extra special.
Enjoy!