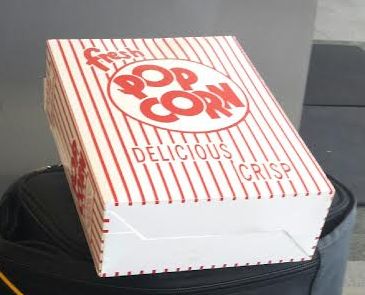 It's National Popcorn Day! Woohoo! I can't be the only one who just loves popcorn. Seriously, I can eat way too much popcorn. I did yesterday at the movies. Salty, buttery, crunchy ooooh! Yummy. I want some now just thinking about it. Bet you didn't know this about your favorite crunchy, salty snack:
Popcorn Fun Facts:
Most U.S. popcorn is grown in the Midwest, primarily in Indiana, Nebraska, Ohio, Illinois, Iowa, Kentucky, and Missouri.
Native Americans brought a bag of popped corn to the first Thanksgiving. A common way to eat popcorn at that time was to hold an oiled ear on a stick over the fire, then chew the popped kernels off it. Natives throughout the Americas also made a popcorn beer.
When the popcorn has finished popping, sometimes unpopped kernels remain. Known in the popcorn industry as "old maids", the kernels don't pop because they do not have enough moisture to create enough steam for an explosion.
Some Native American tribes believed that a spirit lived inside each kernel of popcorn. The spirits wouldn't usually bother humans, but if their home was heated, they would jump around, getting angrier and angrier until they would burst.
The earliest evidence of popcorn was found in Peru and dates to 4700 BCE.
Popcorn kernels can pop up to 3 feet in the air.
The world's largest popcorn ball was created by volunteers in Sac City, Iowa in February 2009. It stood over 8 feet tall, measured 38.8 feet in circumference and weighed 5,000 pounds. WOW!
The first popcorn machine was invented by Charlie Cretors in 1893.
Popcorn contains more iron than eggs, spinach, peanuts or roast beef according to the National Popcorn Institute.
Popcorn was designated as the Official State Snack Food of Illinois in 2004.
How do you like your popcorn?
Me? I like my popcorn simple. Crunchy, lightly salted and buttery popcorn is my favorite but if you like to experiment and add different flavors to your popcorn you might like these homemade options I found across the web:
Salted Oreo Popcorn, Chili Lime Popcorn, Buffalo Cheddar Popcorn
Enjoy today and don't forget to share a little popcorn with your loved one.
(Visited 13 times, 1 visits today)