Keep out of reach of children. How many times have we read that? No doubt plenty. I know I have and keeping prescription medications out of reach is something I have always tried to keep in mind. I think all parents do but sometimes that just isn't enough.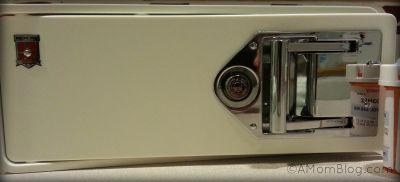 When I first heard about the Medicine Safe, I immediately thought back to the one time my kiddo scared me to death. Let me tell you about it. I can remember it clear as day as though it was yesterday. We came home from grocery shopping and brought everything into the kitchen to start putting it all away. Included in our groceries was my son's prescription for his flavored, chewable allergy/asthma medication. I had no problem getting him to take them as they tasted good. That's a good thing and a bad thing. As we were putting the groceries away, my son took the bag with the prescription in it and ran to his room and locked the door. My fault for not making that the first thing to put away.
Here's the rest of my story and a review of the Medicine Safe:
We were very fortunate that my son couldn't take the safety seal off. Many families aren't so lucky and end up in the emergency room with their children. Yes, over 70,000 according to that one report by the CDC.
The Medicine Safe is ergonomically designed and has a steel reinforced body construction, pre-drilled mounting holes, 2 1/2″ steel double throw locking bolts and includes 2 serialized barrel keys and can hold about 7 standard (4″ tall) medicine bottles. It's compact enough to fit inside a medicine cabinet or drawer.
There is an important warning note I want you to be aware of. It is right on the door so you will see it. Read it. It says, "This product will tip over when the door is fully opened unless it is securely installed." Be careful with that.
Accidental overdoses happen so much it's scary. Just type in "children accidental prescription overdose reports" and you'll see for yourself just how scary those numbers really are. Let's do what we can to keep our children safe from accidental prescription overdose.
Disclosure: This is a sponsored review of the Medicine Safe and I was provided one in order to facilitate this review. All opinions and experiences are 100% my own.
© 2013, Nanette Gomez. All rights reserved.