This is a sponsored post in partnership with Breast Cancer and the Environment Research Program 
These 4 steps could potentially reduce breast cancer risk for your daughter and mine and that is the reason I am sharing them with you.
My mom is a cancer survivor. She is a beautiful, incredible, strong woman. Her story is one of strength.  I am one of seven sisters. I am also a mom to a beautiful little girl.
Why say all that? Well, for several reasons.
Pride. I couldn't be more proud of my mom. I saw her fight her way through 2 mastectomies within 10 years. 5 bouts of cancer to date. She is a fighter and a survivor!
Being one of seven sisters, the odds of at least one of us getting breast cancer sometime in our lifetime is probably greater than I'd like to know. It is something that weighs on our minds. I know I'm not the only one who stresses out while waiting for mammogram results that seem to take forever to get. The thoughts that fill your mind are frightening especially when you get that call telling you it's abnormal and you need to meet with your doctor or that they need you to go back in for more tests.
As a mom, I just can't bear the thought of the possibility of my daughter facing the same challenges with breast cancer as my mom did. Just the thought of her having to fight for her life like her grandma did just crush me. So my thoughts are always on what I can do to reduce breast cancer risks for my daughter and family.
So what can I do, what can YOU do to reduce breast cancer risk?
Scientists, physicians, and community partners in the Breast Cancer and the Environment Research Program (BCERP), which is supported by the National Institutes of Health (NIH), study the effects of environmental exposures on breast cancer risk later in life. They created a mother-daughter toolkit (http://bit.ly/BCERPtoolkit) mothers can use to talk to daughters about steps to take together to reduce risk.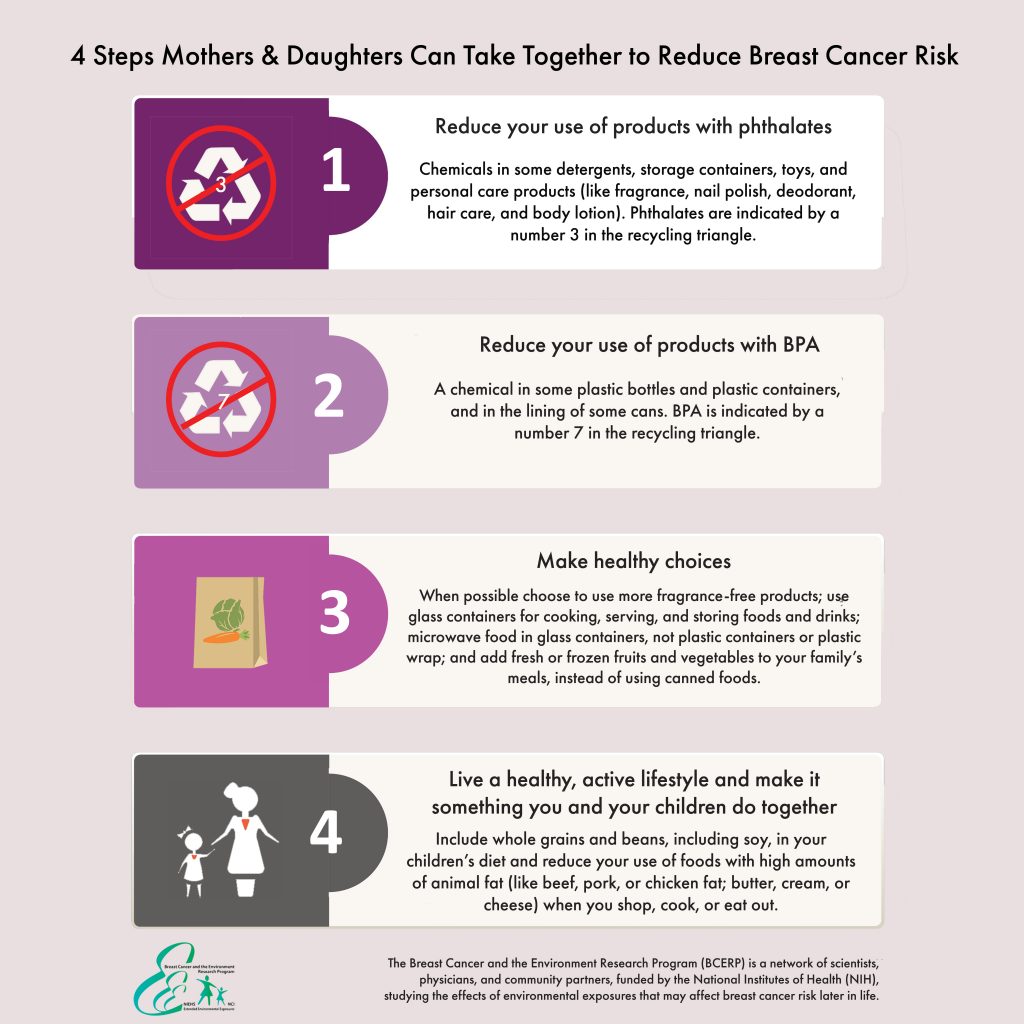 Doing what we can now, may help not just ourselves stay healthy but our daughters as well. And don't we all want our children to remain healthy?
So staying clear of dangerous chemicals that we use or put on and in our bodies and staying active and eating healthy are things we should already be doing. But we can't keep away from these types of products if we don't know about them. Read labels. Know what you are using and how it can affect not just your health but that of your children. Make healthy food choices and be determined to keep active. I know that last one isn't easy but it is important to our health and to that of our children. They do practice what they see.
The creators of the infographic above would like your input regarding research. Please take a few minutes to complete this brief survey.
Work together to reduce breast cancer risk for your daughter
If taking a few simple steps by reading labels closely and knowing what to avoid or being more aware of the way we eat can potentially reduce my daughter's risk of getting breast cancer; we are more than willing to do them.
(Visited 92 times, 1 visits today)