November was a very difficult month. In all honesty it all seems unreal as though the entire month didn't really happen at all. And I wish it hadn't. You see, early November out of the blue we heard my father in law (he's always been "Dad" to me) had been unable to hold himself up. He couldn't hold his own weight. After a third incident, he was admitted to the hospital. Then we were told he needed hospice care.
It hit like a ton of bricks. What did they mean hospice care? My mind and heart just couldn't wrap themselves around this thought. He'd been fine or maybe we just wanted to believe he was. He was never one to complain and always told me his appointments went well. Same as always. He'd been sick ever since I've known him but he always bounced back. Always.
Yes he was in the hospital and obviously tired but he was still joking, making me laugh, talking, wanting to get out of there and go home. But he never went home again. The next day he was transferred to hospice care. We could see him slipping away from us every day, further and further.
We stayed by his side in hospice care and were with him when he left us in less than a week. His guitar being played for him. We told him we loved him so much yet I don't think I ever told him enough. I was so grateful to be able to hold his hand in mine and tell him I loved him. I'll forever remember the last time he squeezed my hand to let me know he heard me say those words to him.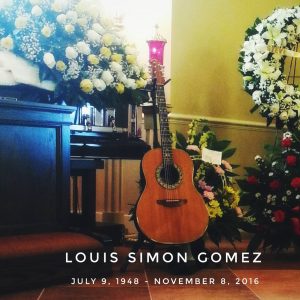 He left a legacy of love, inspiration, music, sons, daughter in laws, grandchildren and so many friends that loved him so. He is deeply missed.
This is his life in pictures and his beautiful voice. I'm so grateful we have his albums and CDs so we can always hear "papa Louie" sing. We love you Dad. Life will never be the same without you.
(Louis Gomez is singing all but two songs – Louie Gomez & the Texas County Band.)
(Visited 15 times, 1 visits today)