San Antonio is my favorite city to visit for so many reasons.  Now don't get me wrong there are other fantastic cities to visit. It's just that San Antonio holds so many laughter filled, wonderful memories for me as a child visiting with my family.
When I became a mom and had my own family, SeaWorld in San Antonio became our family vacation destination year after year. Gosh, I think my son was just about a year old on his first visit. My how time flies.
We were back in San Antonio at Sea World once again this past weekend for AdventureCon, a conference hosted by SeaWorld at SeaWorld.  Not only did this give me the opportunity to improve my writing skills, it gave me the chance to check out SeaWorld's new baby – Aquatica!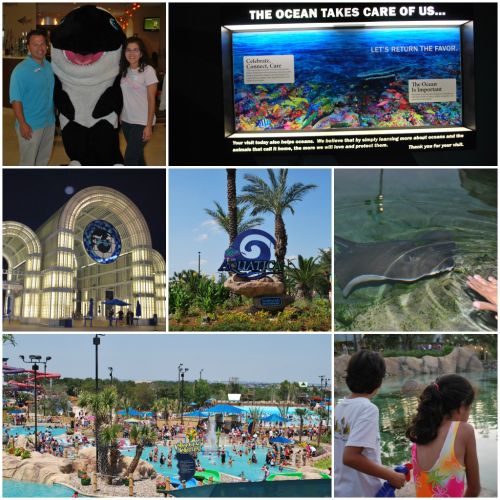 It was a blistering hot Texas summer day and I couldn't think of a better way to cool off than in the cool and inviting waters of Aquatica!  Aquatica's white sandy beaches (over 42,00 sq ft of it), blue lagoons, lounge chairs, hammocks and personal cabanas feel more like a luxury beachside resort than a theme park.
But a theme park it is with it's thrilling water rides, memorable wildlife interaction program with Stingrays (they are so silky soft), high speed body slides more than 450 feet long and a huge wave pool with over 400,000 gallons of water with swells up to 5 feet. Thrill seekers this is your park.
Got little ones or just not into thrill rides like me?  There's plenty of other activities and areas for you too.  It's great having areas where your little ones can play safely in the water.  Kata's Kookaburra cove is a 3,000 square foot area just for little ones.
Slippity Dippity is another separate pool for families with toddlers. There are several small slide and other water play items for the kids to enjoy.  My daughter even enjoyed this area and she's not exactly a toddler anymore.
She had her complimentary life vest on (love how SeaWorld/Aquatic emphasized water safety) and she was FLOATING on her back! She was so excited as this was the very first time she's ever even attempted to float with or without a life vest.  She was SO PROUD of herself and so was I! You can barely see her in that bottom right photo but that's her floating. Yay baby girl!
I'll tell you from my experience there is no better way to beat the summer heat than a day at Aquatica San Antonio.
Disclosure: We paid fees to attend AdventureCon and I was not asked to blog about our experience.  We just enjoyed Aquatica so much I wanted to share it with you.
(Visited 103 times, 1 visits today)