Since our first venture into gluten free living we've tried lots and lots of different brands.  One of the hardest things to find a replacement for are breads.  This of course would include muffins, bagels, sandwich bread which tend to be a staple in every home.  After brand after brand and $ and $ being wasted as we'd try something and then not like it or it was just too hard we were about ready to give up on any type of "bread" products.  Then we came across Udi's Gluten Free products.
We couldn't believe it! It was soft and tasty.  We could have muffins and bagels again!  In fact, we received a package from Udi's containing just that bagels and muffins: (our kit included)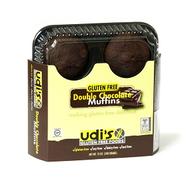 Plain bagels, which my son promptly devoured.
Cinnamon Raisin bagels, which I had for breakfast a few times during the past few days.
Lemon Strusel Muffins, which my husband really enjoyed and he's a bit of a picky eater when it comes to bread products.
and Double Chocolate muffins, my daughter thoroughly enjoyed eating. That was a big feat as picky an eater as she is.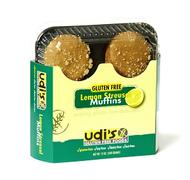 Something for everyone in the family, now that in itself is awesome to me.  'Cause trust me getting everyone to eat the same thing/brand is a rarity in my house especially with my littlest one who is not a big fan of gluten free foods.
It's so nice to have options for breakfast foods other than eggs and/or ceral.
And their foods don't just stop at breakfast. Their food line includes:  hamburger and hot dog buns, sandwich bread, muffins and cinnamon rolls, granola, cookies and even pizza crusts.
I think we've found our gluten free "bread" brand!
Disclosure: I did receive a VIP package from Udi's for this review free of charge. No other compensation took place. All opinions are my own.
(Visited 6 times, 1 visits today)