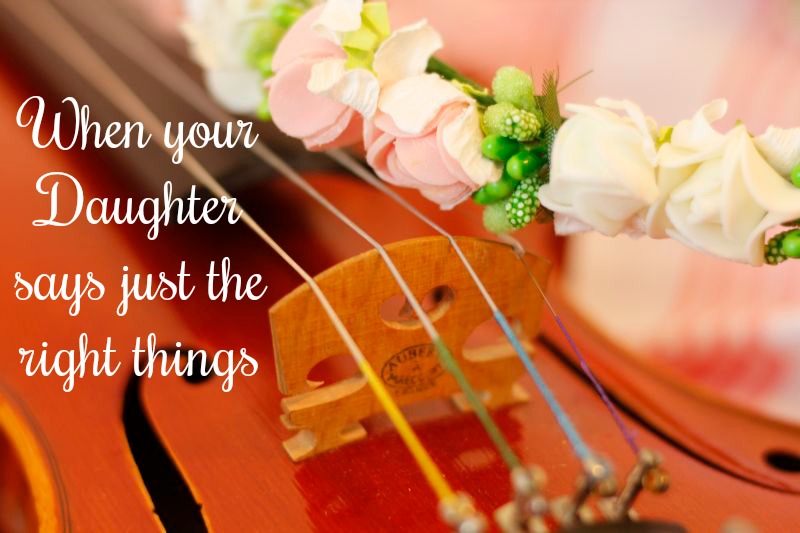 Most of the time as a parent you're on the giving end of advice right? So when you get advice from your child even if she didn't write it specifically for you but it speaks to your heart, you listen. Once your kids get into high school you rarely if ever get to see their assignments. Every once in a while my daughter will clean out her backpack and find some paperwork she actually got back.
The other day she pulled out one of her sample writing assignments and asked if I wanted to keep it since she got a good grade on it. She knows I want her to have something to look back on when she's older. And I do want to keep it but I wanted to share it with you before I filed it away because maybe you need to hear these words too.
Taking a risk means successes and mistakes. No one knows what will happen once they take that chance. However, taking that chance comes with a large amount of courage. That's why it is important to act courageously, because it can help one achieve their goal.

Take Lindsey Stirling for example. How do you think she became so popular with her music? It didn't just happen magically! It took a lot of bravery to get her in the music industry. Before she followed the road to fame, she auditioned on the show America's Got Talent not knowing whether the outcome would be good or bad. When Stirling's performance ended, one of the judges told Lindsey that her dream would not be achieved. However, that didn't stop Lindsey! Today she posts her unique music on YouTube and has over ten million subscribers all over the world supporting her and her music. It took a lot of bravery, not only for sharing her creations online but for walking out on that stage taking that risk, unsure of what her future would hold. Lindsey knew in order to reach her dream she needed to have courage.

In conclusion, courage is extremely important because it can help achieve one's goal. Taking a chance, helps one learn. Taking a chance may lead to success or failure. Most importantly, taking a chance requires lots of courage.
Are you being courageous in your dreams and ambitions? My daughter's dream is to become a violinist like Lindsey Stirling. What a fine example of courage she has found in her. She gives her hope that someday she can make her dream a reality as well.
And on a completely different level, my daughter was unknowingly speaking to me, to my heart. Her words encourage me to continue working on my dream and putting myself out there. She's a wise one that little girl of mine. And she has plans (I hope they work out) to see Lindsey Stirling in concert soon, how amazing will that be to see and hear the music of someone she admires so.
Keep doing what you are doing Princess and follow your dreams!
(Visited 43 times, 1 visits today)