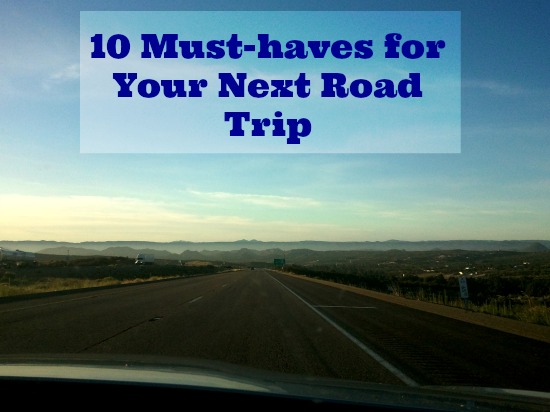 It won't be long before summer is here and you start getting that urge to pack up the kids, hop in the car and road trip it! We still have several weeks of school and I am already getting that urge. It's the wanderlust in me, I can't help it.
But as much as we'd like to just grab the kids and go there are things to think about. There are some essential items you need to make sure you take with you.
Essentials:
Travel apps – navigation – Google Maps, fuel saving – Gas Buddy, food – Around Me are just a few you might want to add to your list. You probably have a ton of apps on your phone so adding a couple more is no big deal right? They can be a life saver when you need them.
No one enjoys getting lost well unless you happen to come across a great location. But for the most part if you are heading somewhere specific that's where you want to get.  Running out of gas is no picnic either nor is paying a lot for fuel. And food – everyone gets the munchies on the road for some reason. I think mine eat more on the road than they do at home. If you are in an unfamiliar area Around Me is a great time saver.
Cell Phone & car charger – While I'm sure your phone is attached to you most of the times don't forget the car charger for it. Double check for it before you leave the house and make sure it's in the car and not in the one in the garage. I may have done this once.
On long road trips you don't want to run out of battery and an emergency come up and not be able to use your phone due to a dead battery.
Make sure you take along spare batteries and plenty of space on your SD card. If you'll need to unload your photos from your SD card don't forget to grab your laptop and pack that too. Remember though it's nice to unplug sometimes.
Food/Snacks
– The road seems to make people hungry.
I don't know what it is about being on the road but my family seem to be constantly hungry while we are on a road trip. So packing a bag of some healthy snacks and some not so healthy snacks (not that I'm advocating eating unhealthy but let's be honest kids want chips).
Water/Beverages – If you give your kids a snack, they are going to want a drink to go with it.
Even a small ice chest with some bottles of water, fruit juice or your preferred beverage can have more than one benefit on the road. You'll save some money and less time will be spent stopping on the road. It will be a quick in and out if you have to make a pitstop for potty breaks.
Pillows/Blankets – Driving in the car has always lulled my kids to sleep. It still does.
If you've ever tried sleeping with your head against a car door and window you know why pillows are being suggested. The person driving is in charge of the A/C and that usually means we are going to get blasted with cold air in our car. Blankets are a must in a cold car. Is it the same in yours?
Driving music – Road trips are the perfect time to jam out to your favorite tunes (and if your dancing and singing along happens to annoy the children in the process – oops!)
Music brings back memories, makes the time pass and is just plain fun so add to the fun and crank the tunes.
An extra set of keys – spare keys! Keep an extra set of car keys with you.
You don't want to accidentally get locked out of your car and no way to get to your keys quickly and you don't want the added expense of having to call a locksmith.
Roadside Assistance Number – This should be in your car and/or on your phone already.
Jumper charger – You just never know when your car battery will die on you and if you don't want to have to wait around for an hour or so for roadside assistance this will do it. Especially if you are in an unfamiliar area or in an area you don't feel safe in. There are many types and brands. some even have air compressors in them in case of a flat so do your research and find the one that will work best for you.
Pack for fun, memory making and safety! Now get ready to hit the road this summer and have some family fun.
Disclosure: This post contains affiliate links.
(Visited 36 times, 1 visits today)