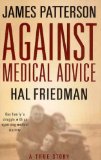 Against Medical Advice is the title of a book I just read and it simply pulled me in and I just couldn't put it down.  I've written a review for it that will be posted on MomsLoveReading.com but in case you don't get the chance to read it I wanted to share a bit about the story here as well.
It's the true story of one amazingly strong young man and his struggle with Tourette's Syndrome and the effects living with Tourette's Syndrome takes on his body, what the medications do to his mind, the struggle within and the struggle in a world more inclined to look down on someone different from the norm than to lend a helping and understanding hand.
It's filled with happy times, scary times, times when life could have ended tragically and moments of personal triumph as this young man and his family bond together in love to reach a life worth living.  Cory's life and personal strength takes him from a hazy world of pain and misunderstanding to an unimaginable fight for survival and triumph.
It takes thirteen years from it's onset at age six to reach it's climax but through Cory's words you will truly understand why it is I say he is just an amazing young man as well as be inspired not only by his efforts but that of his entire family.
(Visited 49 times, 1 visits today)