This post contains affiliate links. It is not a sponsored posted. I really believe in this product and know it works well for us and wanted to share it with you as well just in case you need it but hoping you stay healthy enough not to.
I don't get sick often. When I say often I mean, maybe once or twice every 8 years or so. My kids used to get sick more often but thankfully they don't anymore. Of course, with the start of the new school year and lots of germs, my daughter managed to bring home just enough germs to pass along a cold to me. It all starts with a dry or funny feeling in the throat then boom! I've got a cold.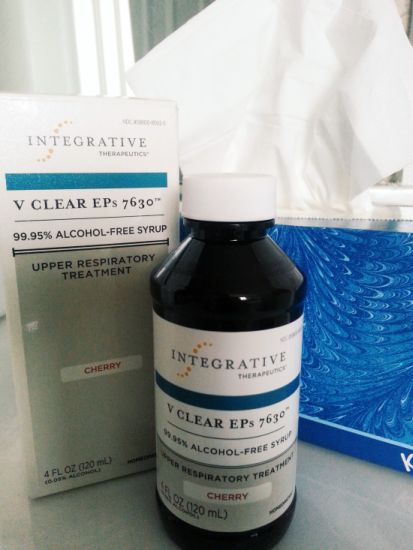 But thankfully, several years ago our naturaupathic doctor's office recommended V CLEAR EPs 7630. It's an upper respiratory treatment. Cherry flavor so my kids don't fuss about taking it. In fact, if they feel something coming on they'll ask for it or ask me to purchase some if we're out. It used to be easy to get, I'd just drive over the our doctor's office and pick some up but we can't do that now. So my next option is to pick it up on Amazon and just have it shipped straight to me.
I'm not one for taking prescription or over the counter medicines but V CLEAR really works. When even my husband says it works and asks for it when he's having upper respiratory issues, then I know it works.
The active ingredient in it is Pelargonium sidoides 1X which shortens the duration and reduces the severity of upper respratory symptoms including congeston, hoarseness, cough, sore throat and headache. I'm just glad I had a new bottle in the cabinet. I recommend it to my friends and family when they are in need of something to help with upper respiratory issues. If you are looking for something with winter coming up, you might want to give it a try. It's the only thing we've ever found that really works.
(Visited 98 times, 1 visits today)