Don't miss the first part of the interview with Cristela Alonzo, the voice talent behind CARS 3's Cruz Ramirez. Hear what she has to say about CARS 3 in her own words.
Lessons from Cars 3  Cruz Ramirez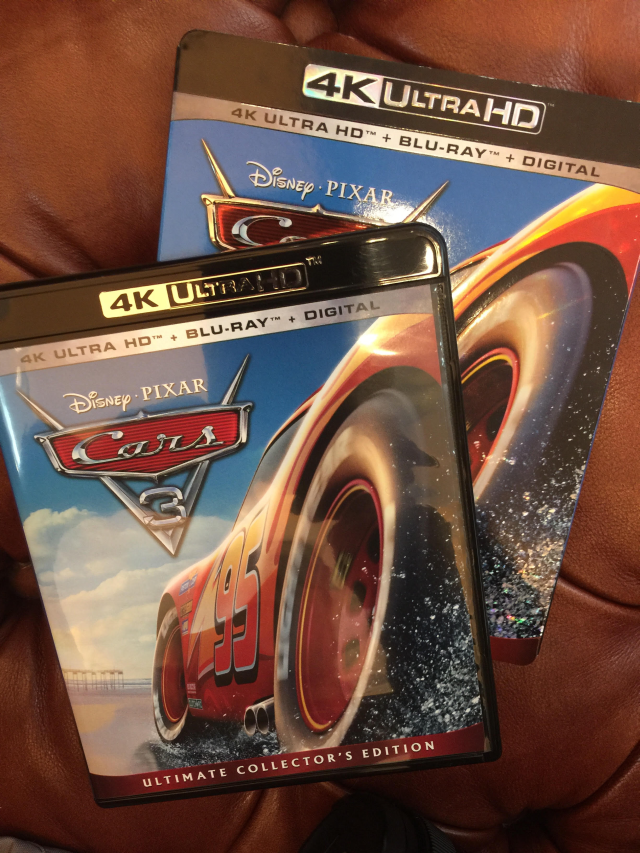 Is this the end of the story for Cruz or just the beginning?
It's the end of that obstacle. I always the end 'cause you never know. I'm very safe. I'm very practical. I haven't been told about anything else but I'm pretty sure they'll probably. I'm expecting it. 
She's a lot like Lightning McQueen, she has become the new one that the kids are going to follow.
Yeah.
Lighting has not finished his story because
He's in a different phase.  That thing where we all have to learn to adjust in what we're doing. Sometimes you realize that what you're the best at,  you get to that moment where you stop being the best at that and you evolve into being the best at something else. That doesn't mean that you're not the best, you're good at something different. And I think that's a lesson, I think that's why I like CARS 3 so much. I think this story is great for kids and adults 'cause kids get to see, hey if I want to do something I can do it, and adults can see that and say, I shouldn't give up. What makes me feel that if you get to a certain point in your life you're done. You're not done. You know. So, I, I think it's perfect, I think everybody can get a lesson out of the movie. 
My thing is that um, in this business, I always say the only power you have in this business is to say no. And I say no a lot to a lot of projects. I only say yes to things that really mean a lot to me or that I think have a purpose.  Ah, because at the end of the day I want to make sure that uh. I want to make sure that my family's uh, proud of what I do and that everything has a, everything has a reason. So for me, I can talk about CARS 3, I can talk about it all day because it really means a lot to me. For me, right now, we're at this point where uh, Latinos are finally starting to get more recognition in Hollywood and I thought this story was important because I image little, little kids like me, boys and girls growing up in like their own Rio Grande Valley, growing up in their own little towns. And sometimes seeing ourselves or hearing ourselves on screen has so much of an impact that we don't realize that I realized after Cars 3 came out that adults really felt so inspired by having Cruz as a character. And these are adults that didn't realize how important it was to have themselves represented. They did a screening before the movie came out in Arizona, and it bugged me yet it was very cool, they told me that after the screening girls couldn't believe the ending of the movie. And they had to ask their parents if it, if they had understood it right and it was because they were so used to girls being girls, liking girl things or you know, they couldn't understand that there was a girl in this "boys world" you know? And I didn't realize when the movie came out, the toys, the Cruz Ramirez toys sold really, really well because they were, there were families whose kids were so excited about Cruz 'cause they had never seen a Cruz before so. It's amazing!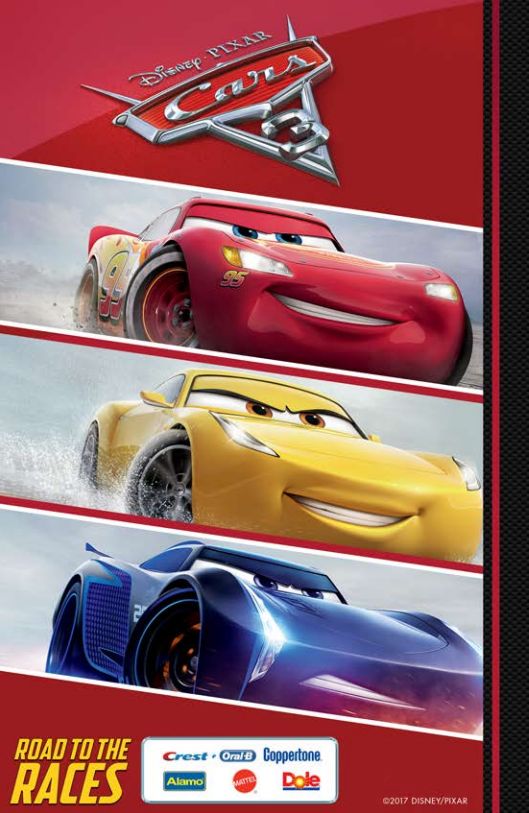 When the CARS 3 Tour came to Houston, we went and everybody wanted to go take a picture with Cruz, I actually felt kinda bad for Lightning there.
Well you know, it's funny cause they also, Pixar does a really good job. When people ask me to do the voice of Cruz they don't understand that it's my voice.  So I like, it's me.  Like, here you go. I think Pixar did a great job, I think they drew her in such a cute like perky little way, that I think she's just loveable. 
You're like that though. You're very much like that I see.
I'm very much like her. We are the same person/car. 
Ok, so then what was y'all's favorite part in the movie then? What was your favorite part to do?
You know, I um, my favorite part of doing, my favorite part was actually um, it was a part in that, in the sad scene in the movie where she actually asks Lightning McQueen how did you know you could do it? And Lightning McQueen says, I never thought I couldn't. I remember reading that line in the booth, not knowing, because they don't give you the lines beforehand. Because Pixar, everybody wants, they leak, they want to protect their stuff you know? So I went in the booth and I read that line and it's like, it just hit me that I Cristela have never felt like that. I've never felt like Lightning McQueen where he says I never thought I couldn't.  You know, it's I am, I always think I can't. You know, and I think a lot of it comes from coming from a very practical family but it's that thing where I couldn't when I read that line it just kinda hit me because it taught me so much about myself and how I doubt myself so much. And it's weird but it's weird, and it's weird to be in that moment and think this character Lightning McQueen has been created where he doesn't question himself and things work out.  And I realized I've never known what it's like to have that kind of confidence. And that for me, that was my favorite part. It wasn't even like a laugh out loud anything. It was that moment that I realized that I was learning so much about myself from, from an animated movie you know. And that's when I realized that we had something different and special.
I think you definitely did. I think a lot of people if not everybody can relate to Cruz and that's why she became such a big part of the whole merchandising and everything. Because everybody can relate to the way you feel, we all feel like that.
Absolutely! And you know that's the thing Pixar and I were talking about, how it's important for people to know, it's important for people to know that it's ok to have doubts. We all have doubts. There's moments when we don't believe in ourselves and it's important to show that because it's important to, it's important for people to see that it's, it's not a rare problem and that were not all alone in it. A lot of us can agree and can see that and that's something. I'm latina. I'm Mexican/American but the doubts are universal.  They can happen to everybody you know. So for me, I  think it's really important to show that you know, we're all a lot alike. Regardless of what we look like or what we are, we have a lot of the same issues. 
What's your favorite Pixar movie, Disney/Pixar movies, I'll let you do both?
Ooh, that's such a good question. I mean, I like UP a lot because it reminds me, I know it seems weird but like the relationship between the older couple in a weird way reminds me of my relationship with my mom. It was very nurturing and very so, and I think I uh I connect with that story in trying to keep the legacy alive and trying to keep the memory alive. I think I completely connect with that. When it comes to Disney though I have to say I really love the Little Mermaid.  For me like, the Little Mermaid has always been such a great movie for me cause it's such a, there's so much joy, Ursula's such a great villain. It's got everything in it. You know, it's just the musical numbers are fantastic and also I think that one was the first movie I remember seeing as a kid that I thought the music was different. You know the Disney fairytales are like "aaaahhhhh"  you know and like and then you see Little Mermaid and it's like that Calypso. Tropical, I don't know. 
You must have tons of Disney memorabilia, do you have one that really sticks out to you that's your favorite?
There is one that I love that I didn't know existed and I have it now. Somebody gave it to me at a stand up show. It's a, it's a plush Cruz that you actually can um,  it changes into, uh I want to say it changes from like regular Cruz to like Dinoco Cruz so you flip over and it kind of gets dressed up. I love that. I love it so much, when I love things I don't touch them or use them 'cause I don't want to, I don't want them getting like tarnished. So it's like right there, it's in my house and I look at it all the time. It's weird though because I didn't realize that they give you so much stuff of your character. And now I have yellow cars EVERYWHERE in my apartment. And I always feel if people come over to visit me they think I'm so obnoxious 'cause I'm like yeah, this is me. I'm just everywhere around the apartment.
My daughter wants to do voice acting when she gets older. What advice would you give her?
. . . It's a hard job, and if you really want to do it you can totally do it just understand that it takes a while. And that's the thing with everything. People, I can't stand, I almost want to say that I hate when people will give themselves deadlines and they always say, I'm going to give myself five years. If it doesn't happen in five years then it wasn't meant to be. No! I always say a lifelong dream, it's called a lifelong dream because sometimes it takes a lifetime but if you really love it, you should enjoy the ride along the way. It's gonna have setbacks but the good the moments should equal the joy that made you want to try to do it you know? That's why for me, especially for voice acting focus on being, focus on having volume, focus on clearing up your voice and making it sound completely different from everybody else.
(Visited 130 times, 1 visits today)