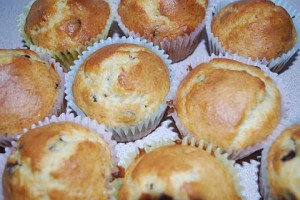 Don't these look yummy?  Mmmmmm Chocolate Chip Muffins hot and fresh right out of the oven.
One of the things Bug and Princess enjoy most is muffin making time.  Baking is just a great learning tools, they practice reading, following directions, taking turns, identifying items and their uses, measurements, counting, addition, multiplication and even fractions.  For Bug it also helps him with his hand coordination and strength.  Stirring isn't real easy for him to do as he doesn't really have the best coordination for it but he's willing to try and that is all I ask.
We are going to be making lots of baked goods over the summer.  Funny thing is, Bug loves to bake and bake and bake but doesn't like to eat what he bakes.  Maybe that means someday he'll be a great chef!  We take what we bake over to friends, family, work and to his therapists' office and share and that's another thing we learn when baking.  We learn about sharing and how happy it makes other and also how wonderful it makes us feel inside.
Bug, Princess and I will be having a great deal of summer fun and learning.  What fun learning activities will your kids be doing this summer? Baking, planting a garden, visiting places of interest, etc?