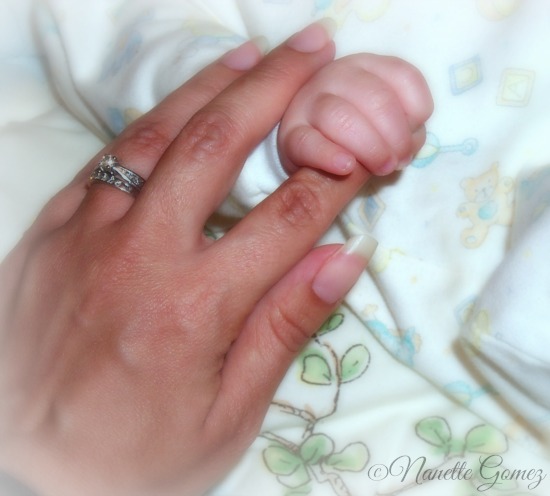 It all began in March 2001 when our first child, our little Bug was born.  From the moment I looked in his eyes I knew a love deeper than ever before.  He was a healthy six pound two ounce beautiful baby boy and just the thought of having to return to work in a few weeks just tore at my heart.  Once I returned to the office things for me began to change.  I didn't want to be at work, I couldn't enjoy it or the company of friends I had there before.  Not that they had changed but with the birth of my son, I had.
It quickly became apparent to me that physically, I couldn't do this any longer.  I would cry in the ladies room and do my best to wipe the tears from my eyes as I longed for the work day to be over so I could return home to my sweet baby.  I was a nursing mom and pumping at work seemed to take so much time away from my work duties and I was afraid it would cause work issues but fortunately this wasn't the case.  At first, when I began nursing I could provide my son with an over abundance of food to keep him healthy and growing so much so that my freezer became filled with his stored milk.  But suddenly it all changed:  Panic attacks became the norm. I began feeling extremely tired I was struggling to provide nourishment for my son.  My body just couldn't do it anymore migraines became more than I could bear and caring for Buggy became impossible when they came on.   I found myself in tears on the floor with my baby quietly by my side.  Why was this happening? What should I do?  Do I stop working?  Can we make it if I don't?  I had no answer as to why.  But I knew what I had to do. My Buggy needed his mommy.  I was given this precious gift and I needed to take responsibility for his needs over anything else.
It was at this point that I just couldn't go on leaving him every morning.  My heart and body just couldn't take being away from him for so long during the day.  My husband, a student at the time knew we just couldn't afford for me to just walk away from work but he saw what a toll it was taking on me emotionally and physically.  So together we took a leap of faith for our son's benefit and have never regretted a moment of it.  I became a stay at home mom when Nathan was about six weeks old. Sure we struggled but for our precious child we would do anything.  Give up anything and everything if that's what we needed to do.
Buggy grew big, happy and was a very well behaved infant. We could take him anywhere.  He grew like any other baby. He loved books and to be read to, loved his veggies, especially carrots and fruits and took to his sippy cup at 3 months old like every other child.  He learned sign language and loved to be read to. He loved playing in the sheets and clean laundry. He would giggle and giggle and oh how we loved that precious little laugh.  He was such a happy, happy baby.
He nursed until 21 months old. I was just about due with his baby sister, Princess who arrived four months later.  We had concerns of course how he would handle a little sister and not having all of mommy and daddy's attention but to our surprise he had no jealously at all. He simply adored his sister.  He was constantly giving her kisses and wanting to be close to her. We couldn't have been happier.
One day at around 18 months the terrible two's hit.  I had heard about the terrible twos but didn't think it would really be THAT bad.  Ha! Boy, they were not kidding.  I was wrong.
Naptime became tantrum time as did anytime he had to be in his crib. He would throw fits as all kids do at that age and that was fine but some things I look back at were a bit odd and should have triggered some concerns in me. He would get to the point of hitting his head not purposely on the wall as we would put him on the bed so he wouldn't hurt himself but the strange thing was that he wouldn't react to hitting his head while in the tantrum it was as if he didn't realize that hurt.
Time went on and the tantrums continued through 2, 3, 4 and even on to 5. I was concerned because try as we may the tantrums continued. He was going to be starting school soon and he still hadn't been potty trained though we tried over and over and over again at different age intervals but to no avail.  We tried method after method after method and he just couldn't do it. Would he be ready for school?  Can he handle school?  What it will be like for him? Fears welled up inside me. I couldn't stand the though of someone treating my baby badly, bullying him or not helping him, other children being mean or cruel and so on and so on.
It was at age five, five years after I left work, at the beginning of Bug's first year of school that I got the answer as to WHY.  In November 2006 we were handed a diagnosis of "Autistic Disorder" by a psychologist.  My heart sank inside me and while I held back tears as I listened to his pediatrician tell me "he will never get married", "he'll never live alone" I could only hold them for so long.  As soon as we were out of her office the tears began to flow as I felt they would never stop.  I called my husband and we cried together.  While it answered many questions it only brought on more.
How would we help our little Bug?  He would need therapy and lots of help and support to strive and reach goals that come normally to most kids without effort.  We decided right then and there that is was not this doctor's place to tell me my son's life had no hope. We would not accept this fate she would have us believe.  We would help our baby.  This was the answer to the why question I asked myself five years earlier.
Buggy would now need me more than ever.  I need to be the one to advocate for him, to help him, to struggle with him, cry with him and be there for him and his sister whenever they need me.  Our decision for me to be a full time stay at home mom was the right one! So never question why things happen just know that in due time you will know why.