Sometimes all it takes is one little thing to throw an enjoyable afternoon off kilter.
It was time to get more library books. The kids have been going through books like mad this summer. Yay, right?
We got to the library and headed inside. No problem. At the entrance just before heading to the books a staff member said they were doing arts and crafts and asked if we wanted to join. I thought to myself, "score! Something fun for the kids to do." I asked and both kids agreed it would be fun to do, which in itself was huge since they never agree on anything.
But as soon as Bug got close enough to hear the music playing in the room and mind you it wasn't loud Bug refused to go anywhere near the room. Just outright said he couldn't go in there. He got all tense and very uncomfortable. I tried prompting for more information but to no avail. He was starting to really stress and I could tell his body was becoming more agitated and stiff. As much as I wanted us to work on this together, he just couldn't.
He wanted to and even said, "mom I love doing crafts with you and I want to but I can't go in there." Totally out of the blue reaction. I could see that asking him why was just causing more stress so I stopped and we just let it go. Princess and I worked on hers as Bug went to go look for books. I kept a close eye on both going back and forth to make sure they were both okay. I didn't want to cheat Princess out of this and I didn't want to push Bug into it.
So, we finished our crafts, picked out and check out our books and headed home. But fortunately that wasn't the end of it. I still wanted Bug to have a chance to do the craft so I brought one of the items home for him to do. We didn't have the right paints for it so we did a little thinking out of the box and used Princess' sparkle nail polishes. You know Princesses have to have sparkly nails. So Bug and I sat outside with the different colored nail polishes and he painted it for me. And I gotta tell you, it turned out just beautiful. I can't wait to wear it out.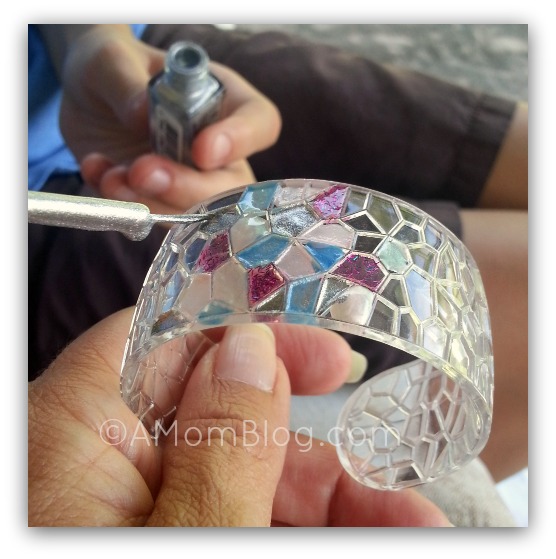 And he wants to make one for his grandma now.
It was one of those instances that turned sour so we just made something wonderful from it.