We are BIG Disney and Pixar fans in our house. And now that you can watch CARS 3 at home digitally in HD, 4K Ultra HD, Blu-ray 4K Ultra HD and Blu-ray you can bet we have. Now, my favorite character in Cars 3 is that little yellow car/trainer Cruz Ramirez. She's got some real spunk to her doesn't she? So, I was so excited to meet Cristela Alonzo, the voice talent behind Cruz and get a chance to chat a bit about her character.
Cristela to Cruz The Journey
Being that we are both from the same area in South Texas we began by discussing life in the valley, The Rio Grande Valley that is. I wanted to get a little background glimpse into what the driving force behind her was that took her from small town to the big time. To be totally honest with you, I was completely inspired by her words and want to share them all with you and every child who needs to hear them.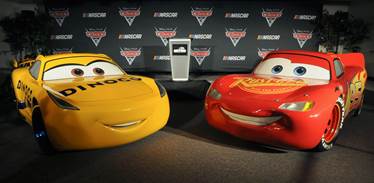 The Driving Force
"When you have nothing, you have nothing to lose. I didn't know better and I think not knowing made me want to do so much, you know? So it was really interesting but I wanted to do it. I thought that if I could pull this off my family would be elevated to the next level. That's kind of what I wanted to do. I wanted to make sure that, I always approach things as I want to leave things better than I saw them. And for me, it's like me getting to live out my dream was kind of a representation of what my family was capable of doing.  So I always feel like by me living out my dream, it's kind of like I helped my mom live her dream by coming here to this country I continue her legacy. 
I'm such a kid, I buy toys all the time. I brought my Nintendo switch with me. I'm gonna play Mario you know. It's weird because I forget I'm at that age where people have kids you know what I mean? It's weird because I love toys and everything. Sometimes I'll go on facebook and look at people that I went to high school with and they have like, families and it freaks me out 'cause I forget. It's so weird. 
My sister has three kids, they're all in their 20's. I helped raise them. It was the premise of my show, it was actually based on real life. I moved in with her and helped her raise the kids so I went through raising kids already. They weren't mine but they were mine so I already know what it's like." 
The Pixar Connection
Cars came out as a kids movie. Before you were involved with Cars 3 had you already seen the other ones?
Oh yeah, I'm a big fan of Pixar. I think that Pixar does a great job of telling, honestly, I think Pixar does a great job of telling real stories that I wish more movies could do. Because what Pixar does which is so hard and I don't know why it's hard, they let you be sad just like life is. Every Pixar movie has that moment when it's reality and when people see that movie, that part it doesn't depress them because they understand they are going through this journey, you know. And I love that. That's why  I remember years ago with kids, my sister's kids we watched A Bug's Life. We were really big into A Bug's Life and stuff. I remember years later, a friend of mine, Paul, he's a comic in Dallas and he's so not the emotional guy and whatever. He calls and he's like, hey, you gotta see UP. It's going to kill you. Like you gotta see UP it's so good. And I was like, yeah, yeah I'll see. And he bugged me for honestly two weeks and that's weird cause he doesn't do that. Then he's like "hey, yo you gotta see UP. And I'm like, the fact that this guy is like recommending UP every day and I watched it and he's like "watch it and call me when you start crying let me know how long it takes you" and then like five minutes into the movie, it's like Oh My God! But it hooked me in because  again it's like in order to tell a good story you have to be able to be funny and sad if the story requires it because that's what life is.  I think we need to be sad at times to appreciate how happy we are when we are happy.

From Small Town to Big Time
One thing you always hear about Cars 3 when they are describing it is how much of a heartfelt movie it is. Is that what drew you to Cars 3?
You know, actually, the story changed with me in it. When I started the role, when I got the role of Cruz Ramirez  I worked on the movie for two years. So the whole movie took six, seven years to make from the idea to what we have of it now. When I got Cruz Ramirez she was going to be a small side-kick and the story changed. I want to say oh four or five times. I can't even remember earlier versions. What started happening though is that, they would fly me up to Pixar in northern state California.  And I would hang out and we'd have lunch and I would talk to them about the valley. I started telling them about how in the valley, my mom she'd come from Mexico and didn't know English. I would tell them about how hard it was. And how hard it is for a lot of people in places like the valley to have dreams as kids and be nurtured and be motivated to chase after them. You know and I always tell everybody there's a line in the movie, there's a line in CARS 3  that comes from my real life that says, my mom use to tell me dream small. She would always say, 'Mija, dream small. And she would always say that. She's like, don't have big dreams because the big dreams are for people with money. You know, it's not for us, dream small. And it's weird because she, she said it because she wanted to protect me.  She didn't want my heart broken. I get that. I understand that but it always bugged me that she never understood the big journey she took like to come from Mexico to the United States. She took a bigger journey than what I wanted to do and that was her dream and she didn't think it was big. So it's weird, I remember and I'll say it all the time in the valley growing up nobody told me I could do it because everybody that was around me were all too busy trying to survive. You know, when you try to get by, when you're trying to survive priorities are different. And you know and I don't mean anything negative to anybody it's just how life is you know. So it's that thing where I, I don't what it was but I wanted to do this since I was a little kid. And when people told me I couldn't do it,  I would always tell them they were wrong because I always asked why.  Why can't I do it? If you can give me a good reason, why I can't do it then I won't do it. No one could ever give me a good reason then I'm like, I'm going to try to do it. You know? And I remember the last time I left home my brother who had never said anything like that, I was really afraid to go to L.A., he said, "Cris just go" he's like "just go. We don't lock up the town when you leave. You can always come back. Go". And that was the first time he, anyone in my family said anything like that to me. I left and I never came back.  It was that thing where I realized, I've been living in L.A. for years, God I don't even know thirteen, fourteen years. I've lost track but it's, it's funny 'cause I remember my brother telling me that when I left.   And that just show you just how the smallest words of encouragement can go a long ways, stick with people. You know? 
How much of you is Cruz?
The story with Cruz, the story evolved. Pixar found it fascinating how life was for me in the valley and how I ended up working with Pixar.   So they started getting my life story and writing it into Cruz's story and that's why I think it has heart, because it comes from a real place.   I don't think they were expecting, well I actually know for a fact, they weren't expecting Cruz to become such a big character in the movie. But, they saw, it's weird,  Cruz and I were the same, we're the same person in a way. It's so weird to say that 'cause she's a car, but um, Pixar saw something in me that I didn't know I had which was hope and ambition 'cause you take it for granted 'cause it's you. And the way, and the way that they portrayed Cruz, I realized that they were seeing things in me that I never saw in me. And what I like about Cars 3 is that she gets to have the ending of her story in the movie.  And it's a positive one. And it gives me hope that my story will have the same effect, you know in my life. 
Is it really the end of the story for Cruz?
What was Cristela's favorite part of CARS 3?
What's Cristela's favorite Disney/Pixar film and memorabilia?
Want to know the answers? Read part 2 of my interview with Cristela Alonzo the voice talent behind CARS 3′ Cruz Ramirez.