I got to spend four and a half hours with my grandma on Sunday.  It was a quick flight in, visit and then back to the airport for my flight home but I feel so much better having seen her for myself and not just relying on others interpretation of how she was.  She's not great no, but she's ok and I really believe she's going to be okay.
Princess, Buggy and hubby wanted to come with me but I just wasn't sure so they stayed home.  But princess did send grandma a gift.  "Can you take this to great-grandma so she can get better?"  It was this cute little brown and white stuffed puppy: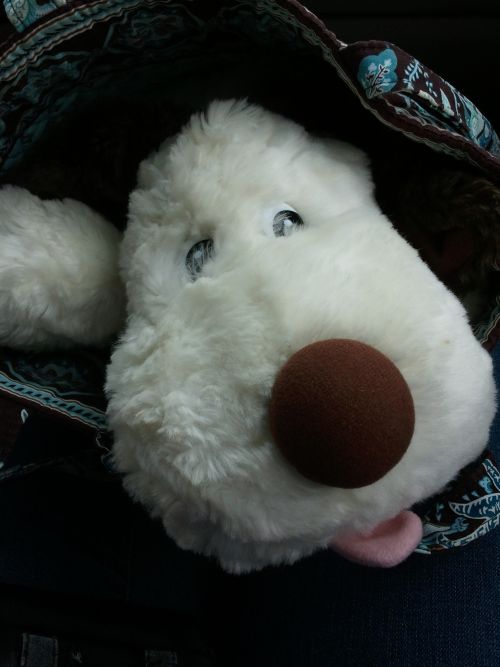 Isn't he just adorable? He was my traveling buddy too as this was my first trip away from my kids and hubby even if it was just a day trip. It's prepping me for next month's trip to Nashville for Blissdom.
You should have seen grandma's face when she saw that stuffed puppy.  Her eyes just lit up and she smiled so big.  It was such a kind gesture from my little one and it is bringing my grandma so much joy. She kept stroking it's soft fur and repositioning it so she could see it's big black eyes and every look brought another smile to her face.  It was priceless.  What joy from the gift of a child to her great grandma.
It was a wonderful and heartbreaking visit.  So hard to see her hurt and in a strange place.  She seemed to remember me and when asked if she knew who I was she responded that she did.  I showed her our family photos, she smiled and seemed to recognize us in the photo and commented on how pretty we all were.  She'd look up at me and smile, that same smile she always did, with lots of love behind it.  She's lost a lot of weight and doesn't exactly look how I remember. The blonde hair is now white.  The strong husky woman is much more fraile and thin now.  All this in just a matter of weeks. But one thing hasn't changed. She's always been a strong willed, strong minded, feisty woman and that she still is.  I'm hoping to visit with the family again soon cause seeing the kids would make her happy.