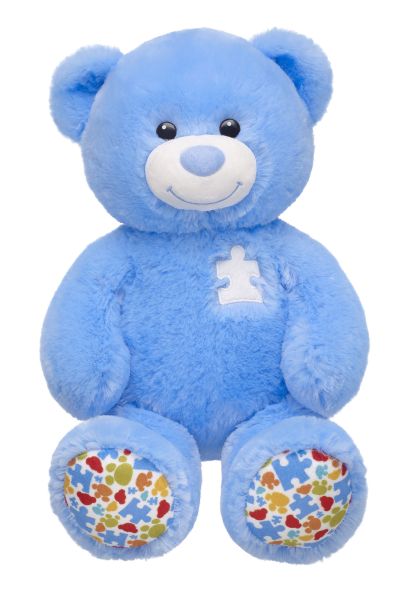 In honor of Autism Awareness Month in April, Build-A-Bear Workshop announced the launch of a special bear. This isn't anything new for Build-A-Bear Workshop. Throughout the company's history, they have supported causes that are important to you and I, their guests. This is especially so in the area of children's health and wellness. They have launched several special limited-edition bears to raise funds and awareness for various causes.
As a special needs parent, it is so nice to see this company help raise awareness and help make a difference for children with autism and their families.
The Autism Speaks Bear ($18) arrives on March 27th . And $1 from each purchase of this adorable bear will be donated to Autism Speaks.There is also an Autism Speaks bear-sized Tiny Tees shirt which will sell for $7  and .50 cents from it's sale will also be donated to Autism Speaks. Whether you choose to visit a Build-A-Bear Workshop and make your new friend or purchase him/her online at buildabear.com you'll be making a donation with each purchase of this adorable, huggable bear.
Blueberry, our Autism Speaks Bear arrived on our doorstep the other day. My son rushed to open the box and was just thrilled to find his new friend inside waiting with a big 'ol smile. She is go soft and huggable he has hardly left his arms except for when he lets sister hold her.
We had to make it official so we headed down to the mall with Blueberry and printed out our newest family member's birth certificate.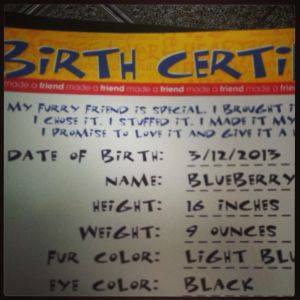 Now this is one special bear, not only for the donations it will bring with your help to Autism Speaks and children with autism and their families but what a smile it will put on your child's face and in his/her heart. Judging from how much my son likes his Blueberry, I'd venture to say yours would too.
Moments like this …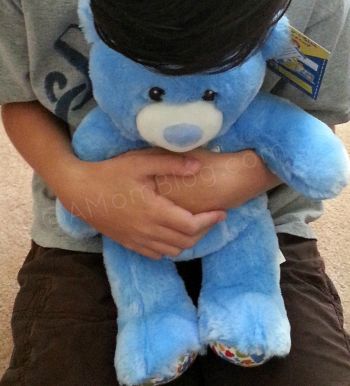 are priceless!
 I want you to have a priceless moment like this too. I did mention a giveaway didn't I? Well, here it is and I hope you'll take just a minute or two to enter. I promise it's super easy to do.
Win a $25 Bear Buck$ gift card to Build-A-Bear Workshop so you and your child can experience the magic of creating your own furry friend.
Disclosure: I was provided with an Autism Speaks bear at no charge to facilitate this review. No other compensation was exchanged. All opinions are my own.