This is a sponsored post in conjunction with Insane Inflatable5K. However, thoughts/opinions in this post are 100% my own.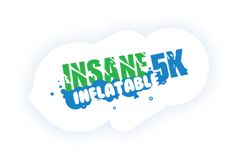 Hey, Houston! It's time to get your running shoes on. The Insane Inflatable 5k Race is coming to town Saturday, November 18th!
What's the Insane Inflatable 5K?
It's the only 5K run that includes fun inflatables throughout the course. Running through inflatables! How fun is that?
A 5K made for everyone!
Whether you're a seasoned runner who wants to add a little more of a challenge to your run or a casual runner looking to add something new to your run this is a great way to do it.
Don't worry if you are a wanna be runner but you just can't seem to get yourself off the couch (like me) 'cause the idea of running seems too daunting, this race is for you too! It doesn't seem near as daunting when you add some fun like inflatables to it does it?
Just imagine 3.1 miles with more than eleven inflatable obstacles before you reach that finish line. That's more than 11 opportunities for challenging yourself and I'll bet a lot of laughs too. Who doesn't love to laugh?
When was the last time you climbed over and through inflatable obstacles? Remember how fun that was? Well, that was too long ago.
The inflatables, some as tall as 26 feet provide lots of challenges like "Ball Maze", "Crash Course" where you dodge and push yourself through hanging obstacles and "Finish Line" where you'll dodge wrecking balls, towers, climb rope ladders and slide your way to victory and your 5K medal!
Sounds like a blast!
So what are you waiting for? Grab a friend, get more information about the Insane Inflatable 5K and register at  www.insaneinflatable5k.com