This post contains affiliate links which means if you make a purchase through a link I make a very small percentage. Don't worry it doesn't impact how much you pay at all. But if you do choose to make a purchase, Thanks for the support.
View-Master! Ok so I may totally be showing my age here and you will be too if you remember them but weren't they the coolest thing ever? Don't remember them or maybe you're just too young to.
In any case, View-Masters were like the first virtual reality glasses/viewer. They have been around for 75 years! Can you believe that? 75! That's a long time. Just thinking about them takes me back to when I was little. So what better to photograph than a View-Master for the "nostalgia" photo challenge. It's a perfect fit! And the fact that a family member had some Disney reels made it, even more, a perfect fit.
I mean seriously can you get any more nostalgic than this? I don't think so. Does this photo take you back? You did have one right?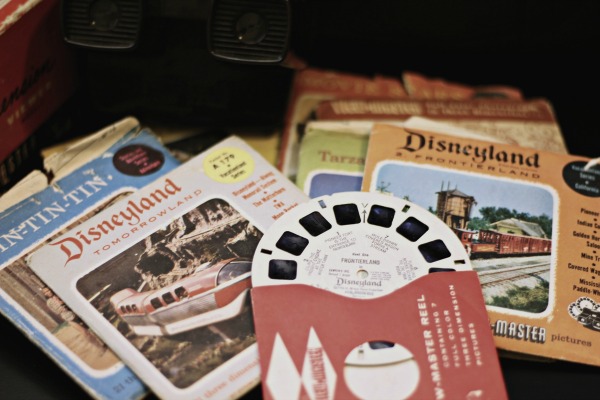 Now I'm not sure if you can see the actual View-Master or not. The one photographed is actually dark brown in color in the upper left hand of the photo. I didn't even know they came in such a dark brown color or any other color other than red for that matter. But that have been before my time. Personally, my View-Master (ok, ours, just in case my sisters read this) was red like this one below and the one pictured at the top of this post.
Honestly, I think every kid should have one or at least experience using one in their lifetime but hey, I'm partial to the toys and things I had when I was little. I admit it. Being a kid when I was a kid was fun! Oh, how I miss those days.
You can still find some view-masters similar to the red one above but they are keeping up with the times.  They now have a View-Master Virtual Reality (VR) Viewer.
It looks a little too "space" like for me but the kids would probably like it. I think I'll stick to the classics. How 'bout you? Which do you prefer?