We were super excited to see Finding Dory when it came out. Seems like we've been waiting for it for such a long time. Well, I guess it has been hasn't it. It's been 13 years.
I thought baby Dory was just adorable, I mean really, just look at this face? Oh and her voice (Sloane Murray), watch the video below and you'll see what I mean.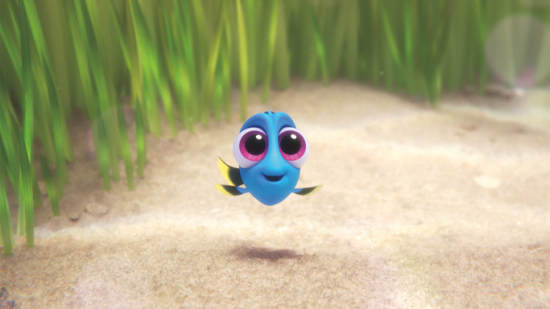 How can you not smile at that? How does your heart not just melt?
Cuteness aside, there were so many angles and emotions to Finding Dory. As a special needs mom, I look at FINDING DORY and I love that almost  every character has something that makes them "different". Nemo has his little fin, Dory has her memory issue, Destiny is nearsighted and Hank has only seven tentacles. Yet each character is endearing and loved for who they are.
Dory – learned about herself, who she was, where she came from, who her family and her friends were. And a rush of emtions come through as she remembers little details about her life, her parents and friends. And that moment when she is going to meet her family, you feel all the emotions, anticipation and excitement just like she does.
Jenny & Charlie, Dory's parents – as a special needs parent, the first thing I could relate to was Dory's parents. When Jenny cries into her husband's chest (well, he's a fish so it's probably not called a chest but you know what I mean) because she is worried for Dory's future. I just wanted to cry right then and there. Because every special needs mom feels that way. We all worry and cry because of all the questions swirling around in our minds about the what ifs, how will they survive, what will they do questions. It's kind of a unspoken thing that Dory has special needs even though she makes it quite clear that she does when she says, "I suffer from short term remembery loss".
Nemo & Marlin
– It broke my heart to hear Nemo ask his dad if they would have to say good-bye to Dory. But I loved how Nemo spoke up, how he made his dad see how Dory's way of thinking was a brilliant way to look at life. While Dory's thinking may have seemed a bit off, it didn't make it wrong, it just made Dory who she was and they had come to love who she was.
Hank – A not so friendly, only out for himself Octopus or as Dory likes to point out a Septopus (he has seven tentacles not eight) learns a lot from Dory. Mainly he learns how to feel compassion and kindness with one of those three hearts he's got. He turns out to not be as tough as he makes himself out to be.
It's great seeing old favorites like Nemo, Marlin, Crush, Squirt and Mr. Ray and getting to meet some new ones. Destiny, a nearsighted Whale Shark (in case you were wondering where Dory learned to speak whale and yes that's why Dory's understanding of the language is a bit limited) and Destiny's friend Bailey, a beluga whale with a bit of an echolocation problem or so he thinks.
FINDING DORY is so full of emotions – love, hope, understanding, anticipation and excitement.
FINDING DORY is now playing in theatres everywhere! Go see it with your family. It is really good. I'm hoping we can all go see it again.
Check out these other fun posts with free FINDING DORY printables:
FINDING DORY Free printable Memory Game & Activities
FINDING DORY Free Printable Coloring Pages
Want to connect online with FINDING DORY?
Like FINDING DORY on Facebook: https://www.facebook.com/PixarFindingDory
Follow FINDING DORY on Twitter: https://twitter.com/FindingDory
Follow Disney/Pixar on Instagram: https://www.instagram.com/PixarFindingDory/
Follow Disney Studios on Pinterest: https://www.pinterest.com/disneystudios/finding-dory/
Visit Disney/Pixar on Tumblr: http://disneypixar.tumblr.com
Visit the official FINDING DORY website here: https://disney.com/findingdory