I received the iCoffee Opus Single Serve Brewer from Remington free of charge to facilitate this review. This post may contain affiliate links.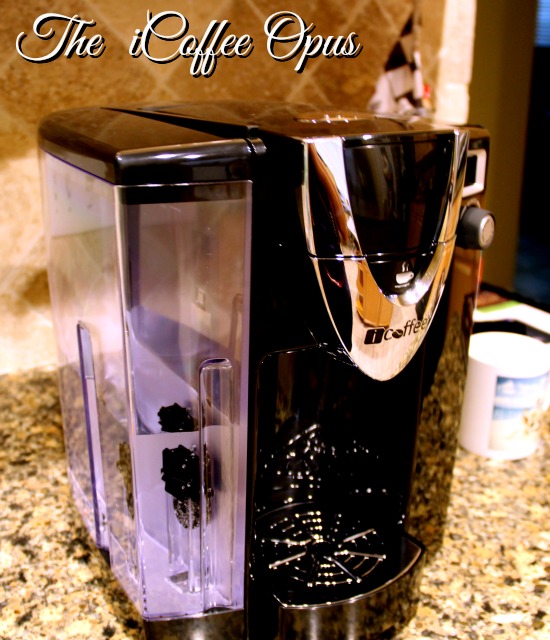 I will tell you even before I opened the box I found so many aspects of the iCoffee Opus that I liked. For one thing, it's BPA Free, includes an iCup Reusable, has a 75 oz. water reservoir, an energy saving feature and an automatic shut off if it's not used for 2 hours. All that and I hadn't even taken it out of the box yet!
Getting it out of the box surprised me though. Check out the unboxing here. I was expecting something lightweight and small. The iCoffee Opus is anything but that. It's rather large and has some weight to it that's for sure. It's pretty though, and I like pretty. The water reservoir lights up blue when it's on. It's really cool looking. I'd hate to have an eyesore of a coffee brewer sitting on my kitchen counter wouldn't you. Here's what it looks like when it's brewing:
But honestly what it comes down to is taste. What's the point in having a pretty coffee brewer if all it does is look pretty, right?
So how does it brew? Does the coffee taste any better than any other brewers? 
I know the brand of coffee will have an impact on how your coffee taste I believe the brewer has some impact on that as well. Personally, I was impressed with the flavor. It was very smooth and had absolutely no bitterness to it. It also had no grittyness to it as I've had before with some coffee brands.
So how does the iCoffee Opus do it? With something they call Spin Brew technology.
SpinBrew Technology
Just how the brewer works to make you a smooth cup of coffee is pretty interesting and innovative (which by the way is what the i in iCoffee stands for "Innovative").
Rather than just push hot water through the coffee, the iCoffee Opus has a spinning needle with jets that spin, steam and stir the coffee in the K-cup thus giving you a better, smoother flavor.
Dial-a-Brew
Do you need a stronger, smaller cup of coffee in the morning to get you up and moving? The iCoffee let's you decide what strength you want between 4-12 ounces by dialing what you want in .5 increments. You are in total control of how strong your coffee is.
K-Cup Compatibility
Then there's the fact that you can use ALL K-cups and K-cup compatible brands in the brewer so there is no need to limit yourself to just one brand. The iCoffee Opus includes in it's package 6 K-cups (5 coffee K-cups and 1 tea K-cup) and an iCup Resusable so you can use whatever brand of ground coffee you prefer.  This small addition I also like as some brewers don't even accept reusable cups.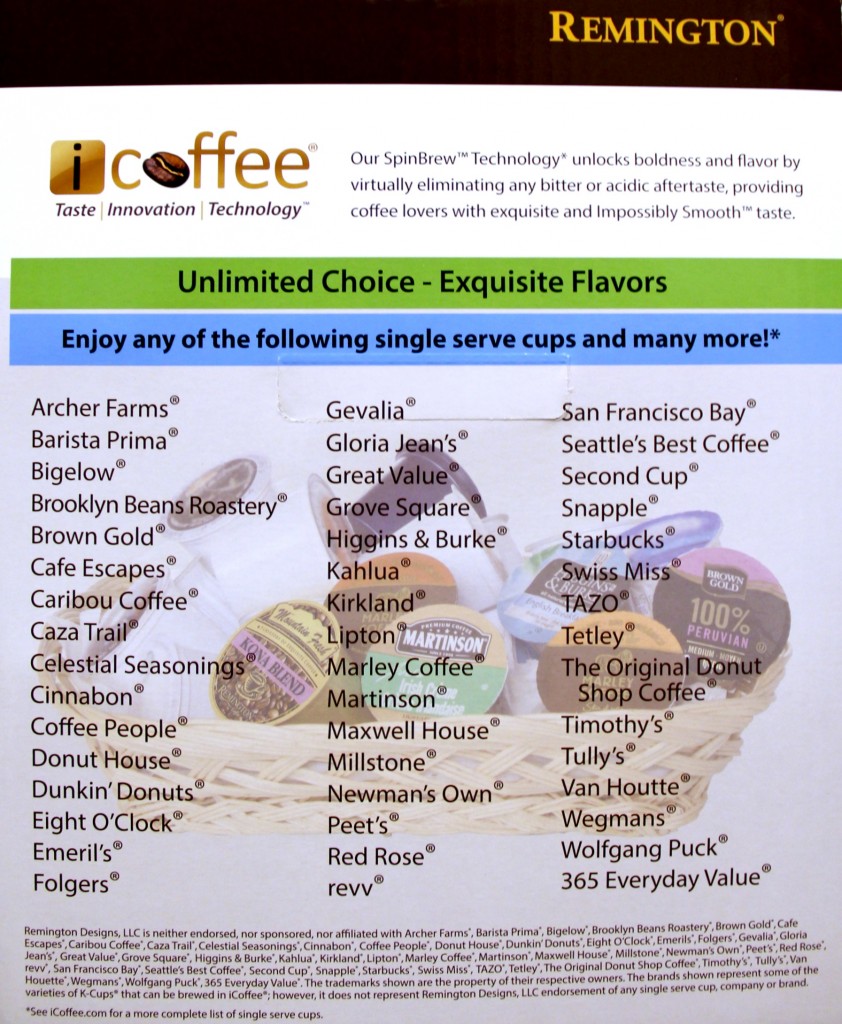 The iCoffee Opus retails for ($139.99) and  is available at all Bed Bath and Beyond's nationwide and other major retailers.
So did I like it and would I recommend the iCoffee Opus? Yes, I would. Granted it's a little larger than I expected but it makes a very good, smooth tasting cup of coffee and that's what's important.