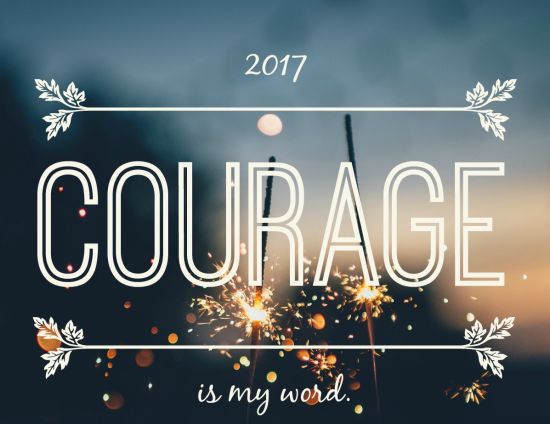 Courage, is my word for 2017. It takes courage to move forward, to step out of your comfort zone, to do things you are afraid of. It takes courage to put yourself out there knowing you could be faced with negativity.
If you don't have courage and you don't do what makes you nervous or scared, you aren't growing. I need to grow both for my own personal self and for my business.
And not just that, I need to do it for my kids. I need to show my kids by example that just because we are scared doesn't mean we give up. We need to face those fears, stand up to them, beat them and succeed! Triumph over fear, that is courage.
Is it shyness or fear?
I always just attributed my lack of courage I guess you could say to shyness but maybe that's not at all what it is. It's fear, fear I let overtake me.
A friend just shared a really great article on facebook, 10 Ways You're Making Your Life Harder Than it Has to Be by Tim Hoch (ThoughtCatalog.com).  And as I'm reading through it I hit number six and it's me to a T. It says "You don't take risks."  And he encourages you if you have a choice take the risk.
That's fantastic advice and it takes courage to do just that, take those risks that scare you, just do it!
Every time I'm offered something that scares me I shy away from it. Not this year! This year I am going to take those scary chances and be bold and courageous! Just wait and see.
I'm going to bookmark my own page and keep coming back to this post every time I'm scared to do something as a reminder to be courageous.
Courage is my word for 2017!
What's yours and how will you make it a major part of your 2017?
(Visited 153 times, 1 visits today)