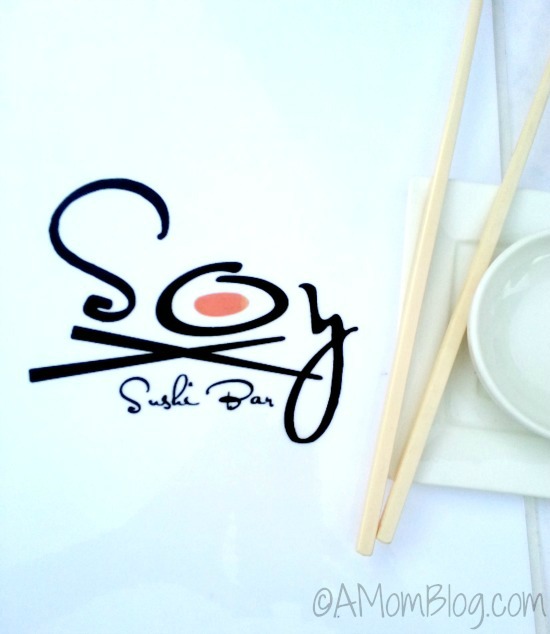 As part of the Social Media on the Sand conference at Beaches Resort Villages and Spa Turks and Caicos we were all assigned a dinner reservation. I was assigned to the Soy Sushi Bar, Saturday night at 6 pm. Needless to say, I was a bit concerned as I don't eat rice but at the urging of my dinner mates, I stuck it out and went.
Having food restrictions including no rice in your diet was going to make eating at a sushi restaurant while at Beaches Resorts kind of a tough bill to fill or so I thought. But I must say, I was pretty impressed that it wasn't an issue at all. And it was quite delicious I might add.
We began our dinner with an appetizer plate filled with well, let's just say I dont' think I've ever had the majority of these fish options except the salmon, fish. I told myself this trip was all about experiencing all Beaches Resorts had to offer and new experiences so I made myself try new things. I did and I'm glad I did, it was delicious.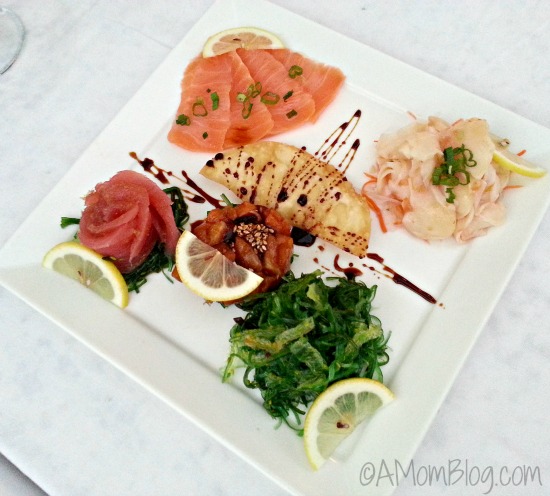 The appetizer consisted of Seaweed Salad (Sesame and soy marinated wakame seaweed), Garlic Tuna (Wild caught tuna sashimi on top of seaweed salad with roasted garlic ponzu), Salmon Carpaccio (Thinly sliced sashimi grade salmon with lemon vinaigrette), Conch Cevice (Turks and Caicos Conch with lime dressing), Sashimi Poke (Mixed sashimi Hawaiian Poke and wonton chips). I had to pass on the wonton chips but it did look yummy. The variety of options gave me plenty to choose from. I wasn't big on the tuna but the salmon, poke and conch were very tasty. And to think I was hesitant to try the conch. Goes to show you should always be open to new flavors.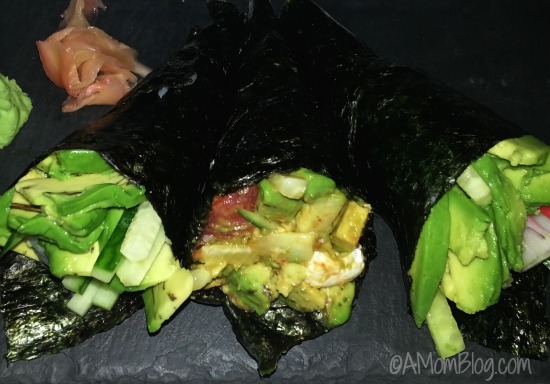 The appetizer was followed by these delicious seaweed wraps specially made for me and included various types of ingredients in each. Each wrap varied in some way but the ingredients included cucumber, shrimp, cream cheese, avocado and crab as well as a few other ingredients. And they were just spicy enough for me. I do like spicy.
I do admit, I feel totally lame for being the only one using a fork. I really should learn how to use chop sticks.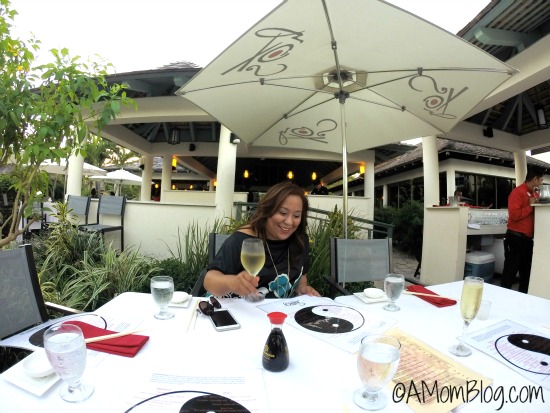 It was a lovely cool Caribbean evening and eating in the beautiful surrondings just enhanced the meal and made my last dinner on this trip with my blogging friends even more wonderful to remember.
Please keep in mind, I don't have severe food allergies but it was nice that at each restaurant we were asked if there were any food allergies before we ordered. It is recommended that upon arrival at Beaches Resorts you speak with the Culinary Concierge desk if you have food allergies.
I paid a fee to attend the Social Media on the Sand conference as you would any other conference. I did receive a discounted rate from Beaches Resorts in Turks and Caicos for my stay. Thank you to BSM Media, Beaches Resorts and all the conference sponsors who made Social Media on the Sand possible.
(Visited 239 times, 1 visits today)