Come experience
Disney on Ice celebrates 100 Years of Magic playing Reliant Stadium with your family!
A SPECIAL OFFER FOR YOU!
Purchase a 4-pack of tickets for only $44 for weekday shows or receive $4 off weekend tickets by logging onto www.ticketmaster.com and entering the coupon code:
MOM**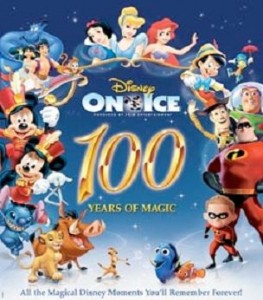 Show Dates:
Wednesday, Nov. 11:  7:30 pm
Thursday, Nov. 12:  7:30 pm
Friday, Nov. 13: 10:30 am, 7:30 pm
Saturday, Nov. 14:  11:30 am, 3:30 pm, 7:30 pm
Sunday, Nov. 15:  1:30 pm, 5:30 pm
**Get 4 tickets for $44 Monday-Friday matinee, or $4 off weekend tickets by entering the code "MOM" in the promotion code box on ticketmaster.  Minimum purchase of 4 tickets required; additional tickets above 4 can be purchased at $11 each.  Offer not valid on Rinkside or VIP or VIP Dining seating.  Cannot be combined with other offers.  Service charges and handling fees will apply.
Don't forget to enter our ticket giveaway, courtesy of MomCentral.com
Post courtesy of MomCentral.com
(Visited 106 times, 1 visits today)