We recently and I mean very recently took a trip across the pond to Manchester England. Thankfully we had friends there who were the most gracious hosts helping us find fun things to do in Manchester with the kids, find a place to stay, get us from place to place and helped us plan it all out. Friends are awesome!
This was quite a bit of an undertaking as we have never traveled out of the country with the kids. There's always a first time right? And after this trip, I'm sure it won't be the last.
We arrived on a Friday morning. We, of course, were a bit turned around due to the time difference but I think we all adjusted pretty well after a short nap. Our friend J, had the first night of our Manchester visit all set. We headed over to meet his lovely wife and family for a quick bite to eat and some bowling and bumper car fun.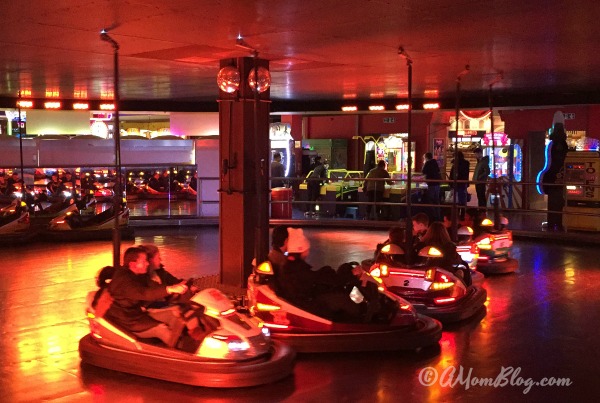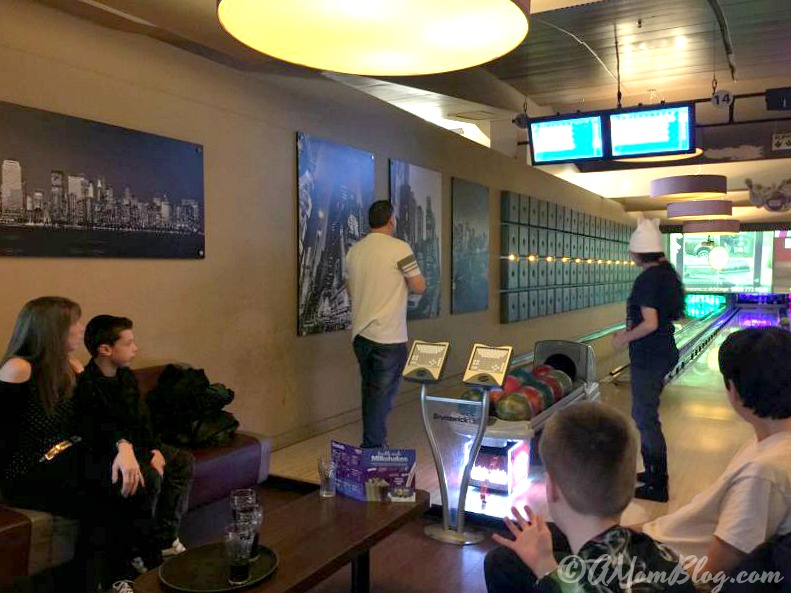 I am absolutely horrible at bowling and yes, I lost but the kids had a great time, in fact, we all did. Lots of laughter. The bonds of friendship you can make online amaze me sometimes.  It's like we had been friends forever.
Fun Things To Do in Manchester
We had plenty to do in Manchester with the kids. Here are some of the places we went that the kids really enjoyed.
intu Trafford Centre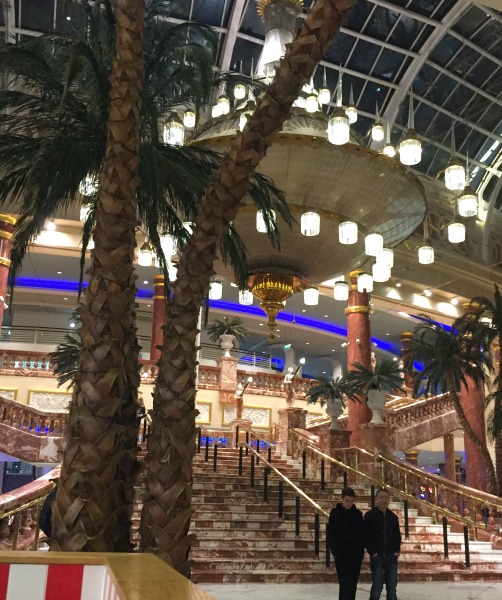 The intu Trafford Center is the second largest mall in the UK. And it's absolutely gorgeous! I was just blown away by the architecture. They had a bowling alley, an arcade, indoor miniature golf, bumper cars, lots of restaurants and tons of stores to shop in. We stopped in at the candy shops, the Disney Store (you know I wouldn't pass up the chance), the Lego Store, the arcade and so many more places. They even have an aquarium there.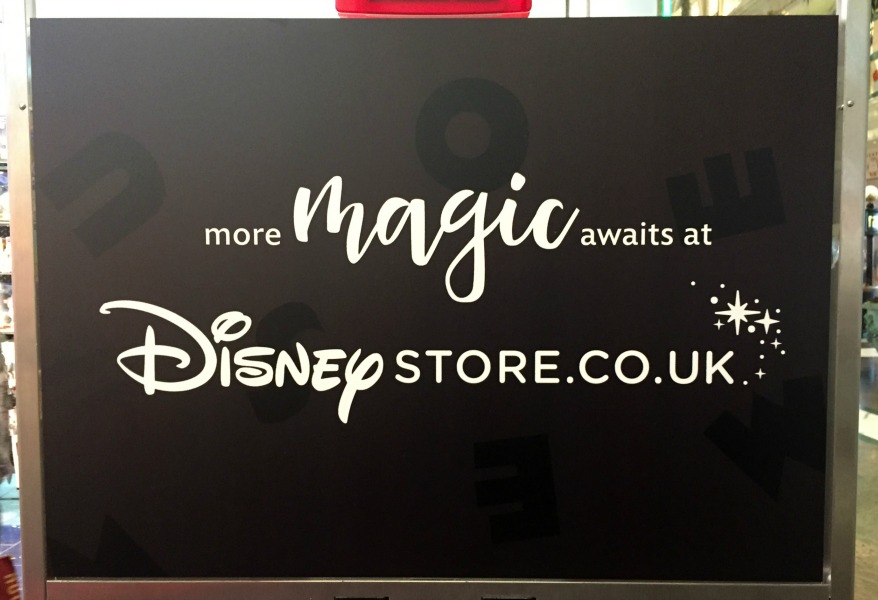 There just wasn't enough time to see it all. I don't even think we got to the second floor. Just look at this place.
This is one of my favorite photos from our trip. Oh, my heart!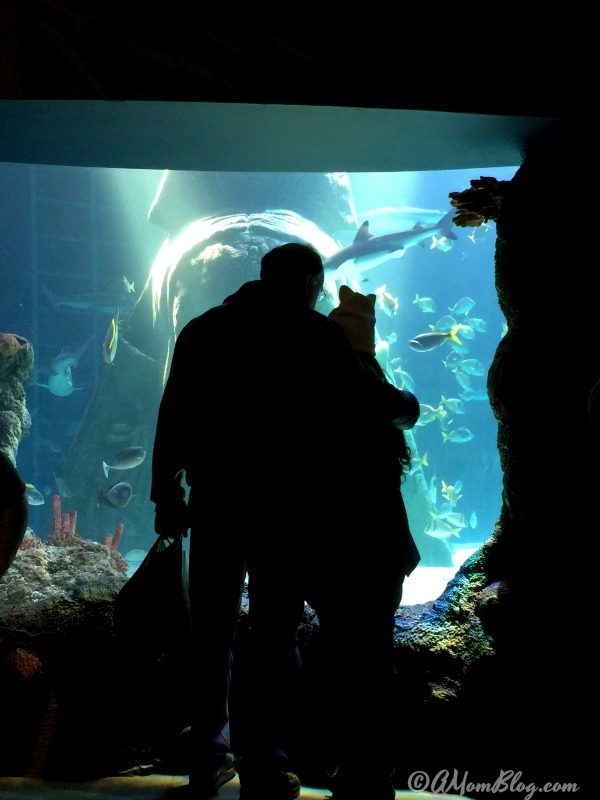 City Double Decker Bus Ride
This was one of the fun things to do in Manchester that the kids wanted to do. They wanted to hop on a double-decker bus. It was fun. We purchased a day pass for around 5 pounds each and could get on and off as much as we wanted. The kids wanted to go back to the Trafford Centre for another look around and to visit SeaLife so we did. I don't know how these big buses get around on those narrow streets of Manchester but they did. Plus you get a great view sitting up top too. Great for taking photos of the city.
It was about a 35-45 minute bus ride from Piccadilly Gardens. A tip for you, and we found this out the hard way, only contactless debit/credit cards are accepted when trying to buy your tickets when getting on the bus. Boy am I glad I had one card with that option. If I hadn't I would have had some pretty disappointed kiddos.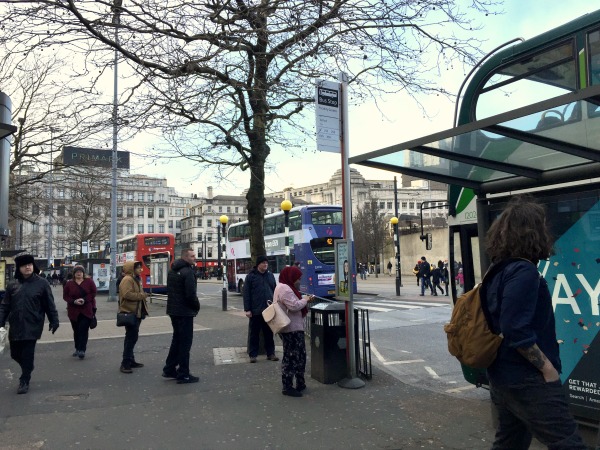 Piccadilly Gardens/Piccadilly Station
We stayed close enough to Picadilly Gardens that it was practically right outside our hotel door. It's the city center where you can grab a train ride or bus ride to wherever it is you want to go. We took a quick walk just to see what was around and the architecture of the buildings was just beautiful. My daughter loved the fountain there and we took some time to look at the statues as well. And after we came back I found out the fountains light up at night with multi-colored light. If I had only known.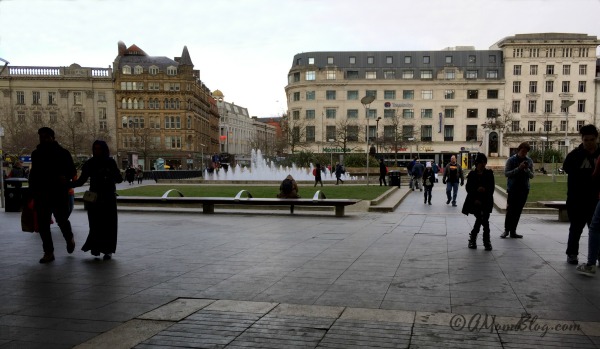 Aren't the buildings gorgeous? We walked down to the Arndal Mall, stopped in at the Hard Rock Cafe for lunch (what music lover wouldn't love that?), watched a man making bubbles on the street, watched the snow fall and just enjoyed being part of the city.
Sometimes blending in, well as much as you can with a Texas accent in the UK, is so much more fun than doing the "touristy" things. I will admit, sometimes the "touristy" things are cool too. We did some of those too.
There are lots of fun things to do in Manchester and in the cities that surround it, like visiting Liverpool! Stay tuned and I'll tell you all about it.
(Visited 218 times, 1 visits today)