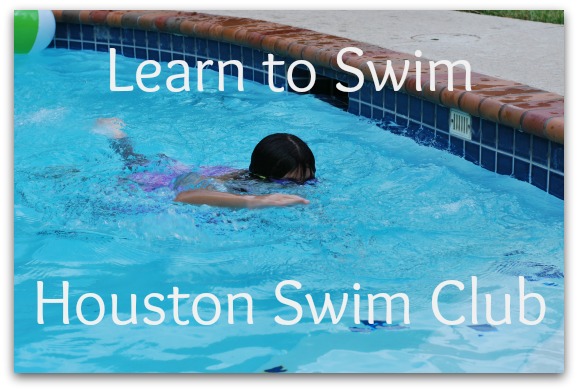 One of my major concerns with my kids has always been "they can't swim yet". We don't have a pool and when we are near a pool or water, I admit I get nervous. Even when we were at Sea World/Aquatica or Blizzard Beach at Disney – I was nervous.
What makes me nervous too is that my husband and I don't swim. We just never learned and I hate that. I wanted to avoid that with our kids but just never did. Until this summer that is. The Houston Swim Club is where I opted to take them. My kids were terrified of putting their faces in the water.
I can't tell you how long that first 30 minutes session felt. I was tense and nervous and scared for them. It was the longest 30 minutes of my life. And I wasn't the only one who thought so. Another parent said the exact same thing to me. But I had to do this. They need to know how to swim.
The first three to four days were hard on them. They cried, they didn't want to go back, they hated having to go underwater. Believe me, I wanted to pull them out right then and there.
But I saw these instructors working with them, working with other kids, really small ones like 4 year olds. (Check out the videos on their website – amazing and so necessary!) And yes the little ones cried but not for long. It was a couple of days of crying and that was it. They were then having fun and learning how to save their own lives should they ever need to by swimming and rolling over and floating to the edge of the pool.
By the end of the first week, my kids didn't want to stop. They took lesson after lesson and guess what. Now, I can't hardly take a picture of Princess in the pool cause she's constantly got her face in the water. Yep, that's her in the photo! No more fear! And she loves it so much, she is paying for her lessons out of her own allowance. How is that for loving it now?
Thank you so much Mr. Tripp, Mr. Tomas, Ms. Karissa, Ms. Antoinette and the Houston Swim Club for working with my kids, showing kindness and support and giving them a life-long love for swimming.
If you are in Houston, the Houston Swim Club is one place you should look into for swim lessons. They have 5 locations throughout Houston! You can find them on facebook at and their website Houston Swim Club.
(Visited 73 times, 1 visits today)