As I was cleaning out my desk drawers over the weekend, yes, it has been much too long since I cleaned out my file, what I found really took me back.  I came across a folder full of information we were given when Bug was first diagnosed with Autism.  I remember feeling so overwhelmed. There was so much information and this was but the tip of the iceberg.
The list of signs I missed. The indicators I should have caught but just didn't see or maybe I just didn't want to see them.  I kept reading the packet and as much as I didn't want to see it, I couldn't really deny it.  It wouldn't have been fair to just close my eyes to it.  That wouldn't help my son.  As much as I wanted to tell myself it wasn't true, it was time to face the facts.  It answered so many questions and brought up many millions more. As scary as the possibility might be if you see these signs or someone suggests to you that you might want to get your child tested and as hard as it is not to getdefensive, take a close, honest look at what could be potential signs and find out.  It  may very well not be Autism but isn't that beautiful child of yours worth the effort to find out? To even just inquire about with his/her pediatrician?  Of course he/she is.
These are just possible indicators.  I am not a doctor so don't take these as facts just as what they are possible indicators that may be a red flag to you as a parent: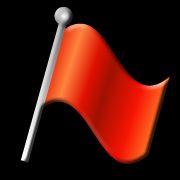 *Lack of speech or impaired speech
*Lack of eye contact
* Doesn't respond when called by name
* Doesn't like to cuddle
* Extreme distress for no discernible reason
* Spins objects
* Plays next to children not with them
* Has no imaginative play
* Echolalic speech (recites lines from t.v., etc)
* No fear of real danger
* Can't carry on a conversation like peers his age
These were just a few of the things we noticed with Bug.
(Visited 59 times, 1 visits today)