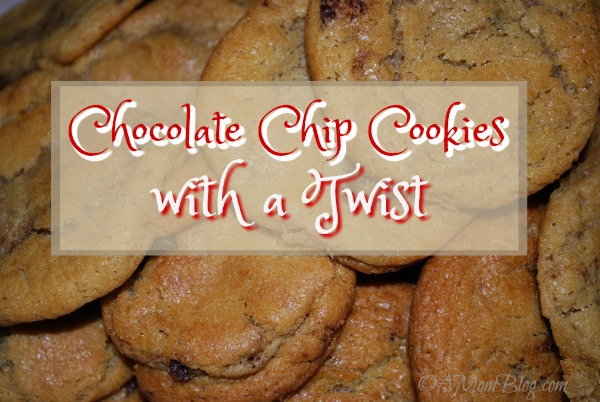 Put a tasty spin on your everyday chocolate chip cookie! Mint Kissed Cookies, the chocolate chip cookie with a twist.
Note: you will need to let the dough set for 4 hours so make sure you give yourself enough time to prepare these cookies.
Ingredients:
1/2 Cups of flour
1/4 teaspoon baking soda
3 Tablespoons + 2 teaspoons unsweetened cocoa powder
1/4 teaspoon salt
4 Tablespoon unsalted butter, room temperature
6 Tablespoon sugar
1 small egg, well beaten
1/4 teaspoon vanilla extract
1 1/2 Cups semisweet chocolate chips
2 Tablespoon solid shortening
1/2 teaspoon peppermint extract
Directions:
Empty the flour into a large mixing bowl.  Add the baking soda, cocoa powder and salt and whisk to combine well. Put the butter into a separate bowl.
Add the sugar, egg and vanilla to the butter.  Beat with a mixer on low speed 30 seconds or until completely combined.  Set the mixer speed to medium and continue to beat the mixture for another 30 seconds.
Add the flour mixture to the butter mixture and beat on low speed 15 seconds just until the flour mixture is moistened.
Place a piece of plastic wrap on a flat surface and transfer the dough to the wrap. Wrap the dough in the plastic wrap and refrigerate at least 4 hours.
Heat the oven to 350 degrees and allow it to heat while finishing the cookies.
Line a cookie sheet with parchment paper. Unwrap the dough and cut it into 1/4 inch slices. Place the slices 1/2 inch apart on the prepared cookie sheet. Bake 8 minutes or until the cookies are firm.
Place the parchment paper with the cookies on a wire rack to cool.
Place the chocolate chips, shortening and peppermint extract together in a microwave safe bowl.
Microwave on high 30 seconds or until the shortening has completely melted. Remove and stir until you have a smooth consistency.
Drop one cookie at a time into the chocolate mixture and use a fork to turn the cookie so it is completely covered.
Place the cookies on wax paper to cool and set about 15 minutes.
Makes: 24 cookies
(Visited 94 times, 1 visits today)