I'm so excited to tell you about Purex's new product.  Toss out that liquid fabric softener, you are going to love this!  I received a free sample size bottle of Purex Complete Crystals to try out as a Purex Insider and today I actually get to tell you about it as it's been a secret till now!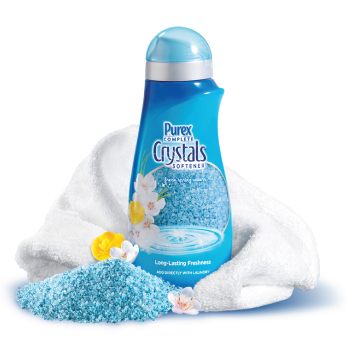 Honestly, my first thought was – these look like bath salts for my laundry? But I tried it and Purex Complete Crystals smell wonderful, I can't wait to take my laundry out (and typically, I'm not a big fan of doing laundry.)    So what's different about Purex Complete Crystals, well for one thing they're crystals, not liquid, not a powder like we've become accustomed to.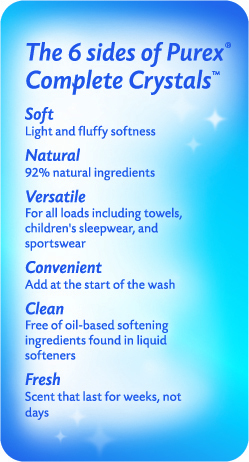 And unlike most liquid fabric softeners, Purex Complete Crystals aren't oil based.  How is that a good thing?
Oil based liquid softeners:
work by coating your fabrics in oil, which over time builds up allowing dirt and debris to stick to fabrics decreasing your fabrics lifespan leading to unwanted gray or yellow discoloration. I hate when that happens don't you?
decreases your towel's ability to do it's job and absorb water.
make your children's sleepwear less safe as the oily residue left by most liquid fabric softeners can impair  the effectiveness of the flame-retardant treatment.
can even reduce the effectiveness of your sportswear as the oily residue can prevent the fabric from drawing sweat away from your body during a workout.
Right now you can buy Purex Complete Crystals at Wal-Mart but coming in January and February it will be available at other retailers as well.
UPDATE!!!! Win a free bottle of Purex Complete Crystals! I now get to give 3 of my readers a free bottle of Purex Complete Crystals courtesy of Purex.  To win all you have to do is leave me a comment letting me you'd like to try the new Purex Complete Crystals or tell me which scent you'd like best – click here for more information and available scents.
If you'd like to you can also get an extra entry by doing any of the following: (please be sure to leave a comment here on this post letting me you've done any of the options below)
Follow me on twitter.
Tweet about this giveaway.
Like us on facebook.
Follow this blog on google friends connect. (see sidebar)
Follow this blog via Networked Blogs. (see below)
Winners will be chosen by random.org on Jan. 7th and prize coupons will be shipped via Purex. Winners will be notified via email/twitter and will need to respond within 48 hours.
(Visited 22 times, 1 visits today)