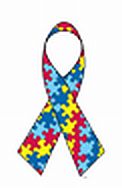 April is Autism Awareness Month. Yes, I know it's not April yet but like I've said before it's an issue that needs to be thought about every day not just one particular month. That being said, I would like to tell you what a local swim club does and how it has helped my family and what you can do to help them, help others.
Not all kids learn at the same pace. My daughter took swim lessons for maybe a month (2-2 week sessions) and she got it. From a little one whose never had a swimming lesson to swimming pretty much by the end of the first two week session! It was awesome. My son on the other hand has been learning to swim for over six months now going twice a week. He's inching his way there but it's not easy and I don't even know if he'll be swimming in another six months. He's getting there but it takes him a long time to learn things like this.
Of course before the lessons at Houston Swim Club he wouldn't get into the pool without a life vest even though he was tall enough not to need it. He has/had some major fears to overcome as well as muscle strength issues. But through it all the staff and teachers have been AMAZING!
Financially it's not easy to add an additional expense for a skill like this but it is a life-saving skill kids need to know. Houston Swim Club (HSC) provides assistance to families with children with autism who need it.
You Can Help Kids Learn to Swim
They accept donations to help these families out. All donations go to the "Scholarships for Swimmers with Autism". Whether it's a dollar or five dollars, it all helps out families and children who really need it. And you don't have to be a member to make a donation or even local I don't believe. Call them and get more information if you'd like to help out. I don't work for them and am in no way being compensated to share this with you. I am simply a mom of a child with autism who is so grateful for the hard work HSC has done with my son and I know we couldn't do it without their help and yours.
Houston Swim Club can be reached at 281-807-7946 (SWIM). Give them a call. You'll be making lots of little kids smile. 🙂 Plus families who make donations will have their name put on a fish to be hung in the Observation Room for everyone to see!!
(Visited 44 times, 1 visits today)