This is one of the food items that I tasted at BlogHer and I gotta tell you it is still on my mind. It was that good and so cool and refreshingly perfect in this HOT Texas heat.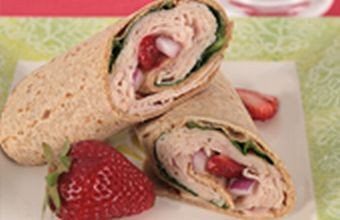 Ingredients
1 whole wheat tortilla (8-inch)
1/4 cup baby spinach leaves
4 slices Hillshire Farm® Lower Sodium Oven Roasted Turkey
1/4 cup strawberry slices
1 tablespoon chopped red onion
1 teaspoon poppy seed salad dressing
1/4 teaspoon chopped toasted pecans (optional)
Directions:
1. Top tortilla with turkey, spinach, strawberries and red onion. Drizzle with poppy seed dressing and top with pecans, if desired.
2. Roll-up and serve immediately or wrap in plastic wrap and refrigerate until ready to serve.
Yield: 1 serving (1 wrap)
Prep Time: 10 minutes
Cook Time: 5 minutes
Just had to share it cause I really think you'll enjoy it and it's quick to make too.
Please note this is not a gluten free recipe for those of my readers who are gluten intolerant. If you know of a gluten free tortilla option please let me know, I think my son would really like to try this.
For more delicious recipes that were shared at BlogHer visit Hillshire Farm.
Disclosure: Re-printed by permission.
(Visited 80 times, 1 visits today)