Not for me. Today as I was going through the kids' backpacks I found something that brought tears to my eyes.  My Little Bug had written a letter to me.  Here it is: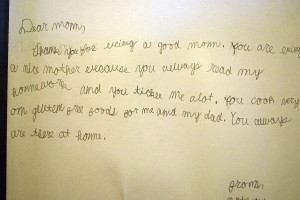 This is what it says:
Dear mom,

Thank you for being a good mom.  You are being a nice mother becaue you always read my homework and you tickle me alot.  You cook very on gluten free foods for me and my dad.  You always are there at home.

from

(then he signed his name)

You're very welcome, Little Bug.  It's my greatest pleasure to be your (and Princess') mom.
(Visited 105 times, 1 visits today)