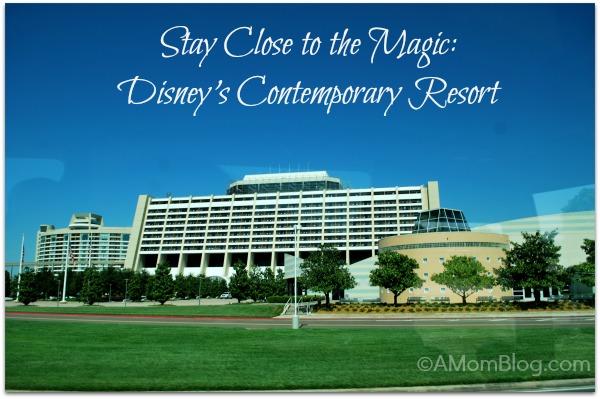 The Contemporary Resort at Walt DisneyWorld hosted the 2013 Disney Social Media Moms Celebration. There are so many benefits to staying at a Walt DisneyWorld reort and I'll share those perks with you in another post. But first I wanted to give you a quick view of the Contemporary Resort my family and I stayed in while attending the Disney Social Media Moms Celebration.
For as long as I can remember seeing the Contemporary Resort at Walt DisneyWorld, I have wanted to stay there. And for the first time ever thanks to being invited to the Disney Social Media Moms Celebration I was able to. And yes, it was magical! Just riding up to it on the Magical Express I could feel myself getting more and more excited.
My hubby and kids already know, I get to go into the rooms first 'cause well, you know the blogger in me just has to take photos before all the suitcases explode in the room and there are clothing and shoes everywhere.
The room is just beautiful! And yes the beds are just as awesome to sleep in as they look.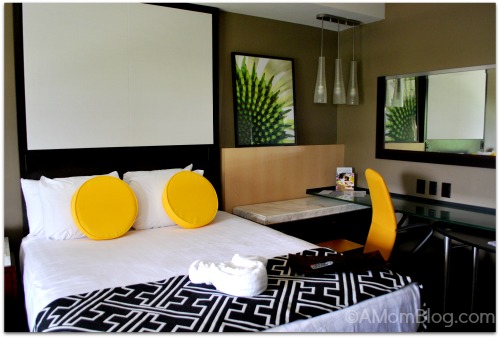 Just keep one thing in mind, if you tend to travel with a lot of toiletries or items that you keep by the sink, there is little to no room for it. There is a shelf under the sinks but that may or may not be convenient for you.
We didn't have the greatest view but it did have its advantages. We could either watch the fireworks from the window or lie in bed and catch their reflections in the mirror. It was actually kinda fun doing that. We found out later too that there is a walkway you can go out to, to watch the fireworks at Magic Kingdom.  And who wouldn't love waking up to this view: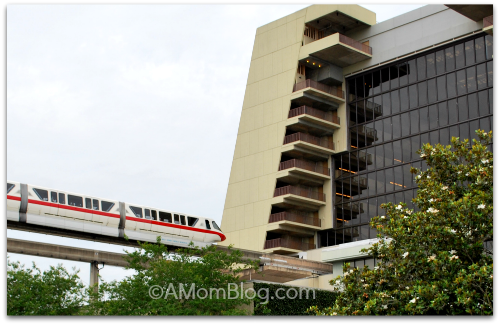 It was a sure way to get me up and moving if it was already running by the time I got up.
Getting to and from Magic Kingdom from the Contemporary Resort couldn't have been easier. The Contemporary Resort is one of only a few resorts in which the monorail is a direct method of transportation to and from Magic Kingdom. The Monorail since it goes through the hotel to the park, was the most fun of course. But a short, early morning stroll over was pleasant as well. Or an evening walk back if you didn't feel like waiting in the monorail line at the end of a long day.
Disclosure: I paid a fee to attend the Disney Social Media Moms Celebration. I am not required nor was I asked to share my experiences. I do so because it was an experience too good not to share.
(Visited 186 times, 1 visits today)