Last week we talked about planning your first Disney trip and some things to consider before deciding on which Disney destination would be right for you and your family – Disneyland or Disney World?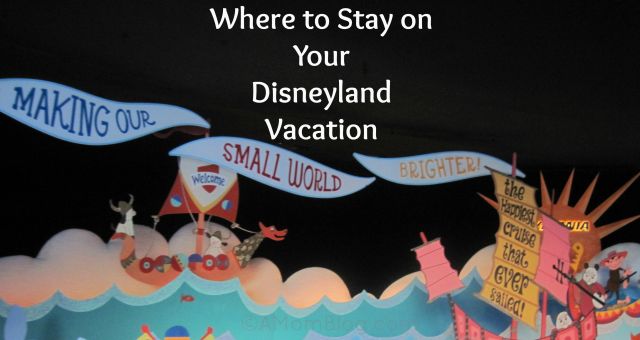 Today, we will talk a little about where to stay at Disney. There are so many choices both on and off property. And again a lot will depend on two things – 1) your budget (I know, I hate to consider budget too when going to Disney but it is a must-do for most of us.) and 2) your family's needs/wants.
Let's start with Disneyland first. I have stayed both on and off property. In fact, rather than repeat my previous reviews, I will just link to them from here for you and you can take a look when you are ready: Howard Johnsons Plaza Hotel and  Disneyland Hotel.
You can also compare the three on-site Disneyland resorts: Grand Californian Resort and Spa, Paradise Pier Hotel and Disneyland Hotel and see what they each have to offer.
There are plenty of off-site "Good Neighbor hotel" options as well.
I will however, say that staying on property for us was so much nicer. While the kids loved the pool/water play area at the Howard Johnson's and it was indeed walking distance nothing beats staying in the magic for me.  And with the completed renovations at the Disneyland Hotel my kids would absolutely love to be splashing around in one of their two new pools.
Before you decide to stay off property, take a look at the benefits of staying at one of the Disneyland resorts first and weigh that into your plans. Would the benefits of staying onsite outweigh the cost of staying off-site? Think travel time, fuel expense, how the kids will handle the walk after a long day at the park or if they will need a break, etc.
If you've got little ones, think about nap times. Sometimes even the big ones need naps. My husband got sick on one trip totally out of the blue. I was so grateful we were staying on property so he could rest when he needed it.
And nothing beats the Extra Magic Hours for us!
Next week I'll share with you some Disney World resorts you should check out should Disney World be your Disney destination.
(Visited 104 times, 1 visits today)