When is a movie not just a movie? I'll tell you when, when it's a party! I will start off by telling you I had never been to an Alamo Drafthouse Movie theater before this week.
We went this weekend and saw Willy Wonka and the Chocolate Factory. Yes, we've seen it a million times in our lifetime and our kids have seen it lots of times. It's a classic! Who hasn't seen it right? (Actually, 6 people in the theater hadn't.)
The Ultimate Willy Wonka Party!
But as I found out seeing a special event movie like this one at Alamo Drafthouse, it is more than just a movie. It's fun! It's a party! And this special party, The Ultimate Willy Wonka Movie Party, even had two very special guests. I'll get to that part in just a bit but let's start at the beginning.
As we walked into to the lobby of the theater we saw Willy Wonka. Yes, I know it wasn't the real Willy Wonka but still it was a super fun way to be greeted and handed our "goodie bag" for the movie.
Goodie Bag Fun
What's a party without a goodie bag right? Most parties you get the goodie bag at the end as you leave to take home. Not so with this goodie bag. You see, at these special Alamo Drafthouse events, you get to have fun WHILE the movie is going on. You get to be a part of all the fun.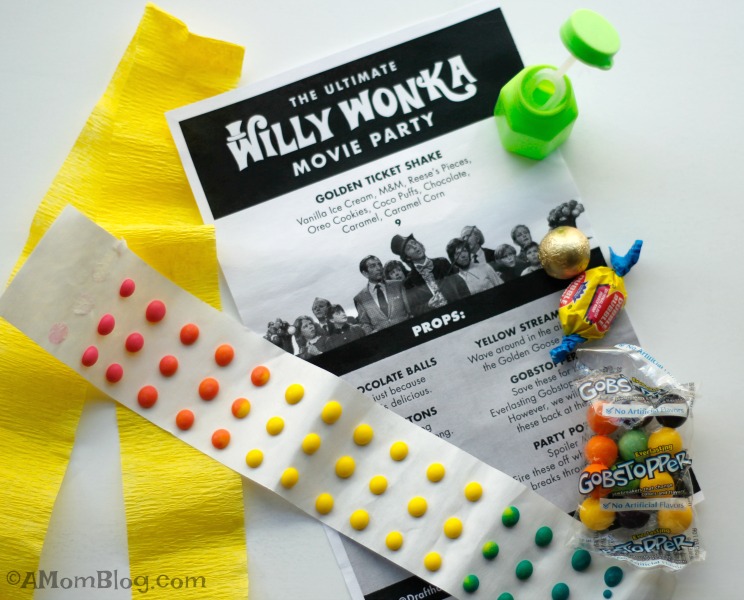 In our Willy Wonka Party goodie bags, we found all sorts of fun props.
Milk Chocolate Balls because of course, you have to have chocolate!
Candy Buttons to eat during "The Candy Man" song. I hadn't had those in ages.
Bubble Gum because you know Violet, she was always chewing gum.
Bubbles to blow during the Fizzy Lifting Drink scene with Charlie and Grandpa Joe. So fun to see bubbles floating around the theater.
A Yellow Streamer to wave around during the Golden Goose scene.
Gobstoppers but remember not to share it with anyone.
Party Popper to pop as the glass elevator crashes through the glass ceiling.
As you can imagine the kids had a blast and in all honestly so did we. When was the last time you blew bubbles at the movies?
The Alamo Drafthouse also created this special drink just for the event called the Golden Ticket Shake. Of course, my husband had to get it. Not complaining though, it was delicious.  It had vanilla ice cream, chocolate, caramel, and so much more! By the way, popcorn makes a great topping for the whipped topping instead of sprinkles. You're welcome for that.
The Special Guests!
Oh dear, I got lost in the thoughts of that Golden Ticket Shake description I almost forgot to mention the two very special guests we got to meet and take pics with.
The film's Veruca Salt – Julie Dawn Cole and Mike TeaVee – Paris Themmen came out after the show and sat and answered questions and told some stories of their time on the set of Willy Wonka and the Chocolate Factory. It was so much fun listening to their stories. My Princess wanted to ask a question so badly but there were so many who had questions she didn't get to. After the question and answer portion, they graciously snapped photographs with every single guest for that showing. They were both so kind and caring.
We are a family that does everything together. When we get the opportunity to do events like this as a family it always means so much more than had we done it without the kids. We left with our hearts full, lots of laughs, fun, and memories we'll cherish for a very long time. And a nice little-added bonus!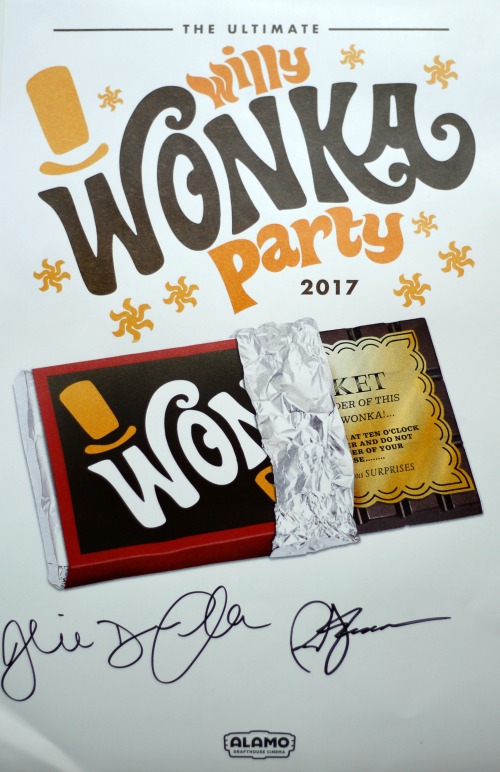 (Visited 298 times, 1 visits today)