Ok, Houston, TX moms, this one is just for you!  Disney on Ice will be in town from April 15th through April 19th.  Yes, that's next week!  I've got a Family 4 pack of Opening Night Tickets to give away.  This is going to be a very short time frame giveaway.  Tell every other Houston area mom you know about this giveaway right now, or at least as soon as you finish entering!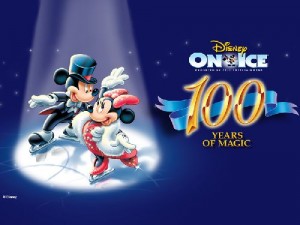 PRIZE: One Family 4-pack of Opening Night Tickets for the Disney on Ice Mickey & Minnie's Magical Journey presentation on April 15th, 2009 at 7:30 p.m. at Reliant Stadium in Houston, Texas.
How to Enter: It's very simple.
For one entry, simply leave a comment below.
Additional entries: Tweet about this giveaway and link to this post.  Make sure you leave a comment with your tweet so it will be counted.
Post about this giveaway on other mom forums, or local Houston community sites you are a member of. (Make sure it's allowed though first.)  Leave a comment letting me know you did so and where.
Alright ladies, let's get to commenting, tweeting and sharing this giveaway!
Winner will be chosen by Random.org on Friday morning, April 10th.
Ready, Set, Go!!!

If you are not from the Houston area, don't frret I've still got two great deals to let you know about:
1)  Get 4 tickets for just $44 by entering the code "MOM" at select ticketing channels** including http://www.ticketmaster.com. Offer good on all performances, minimum purchase of 4 tickets required; additional tickets above 4 can be purchased at $11 each. Offer not valid on Gold Circle Seating, Circus Celebrity Seating, Front Row and VIP seating or combinable with other offers.  Other Restrictions May Apply.
The tickets can be purchased from http://www.ticketmaster.com and by entering the MOM code in the MomCentral promotional box when purchasing tickets.
2)  A select amount of Front Row and VIP seats have been reserved for you to buy before they go on sale to the public – just enter the code "MOM" when purchasing those seats.

Want to find Disney on Ice in your town?  Here are some of the upcoming shows (Don't forget to use the code "MOM" for your special deal:
Houston Disney On Ice presents Mickey and Minnie's Magical Journey
April 15-April 19

Ringling Bros. and Barnum & Bailey® proudly presents Over The Top
July 15-July 26
Kansas City
Disney On Ice presents Mickey & Minnie's Magical Journey
April 1-April 5
Ringling Bros. and Barnum & Bailey® proudly presents Over The Top
September 16-September 20
Phoenix
Disney On Ice presents a Disneyland® Adventure
April 9-April 12
Ringling Bros. and Barnum & Bailey® presents ZING ZANG ZOOM
June 24-June 28
Chicago/Rosemont
Disney On Ice celebrates 100 Years of Magic
Sept 8-Sept 13
Newark/East Rutherford/Uniondale/NYC
Ringling Bros. and Barnum & Bailey® presents ZING ZANG ZOOM
March 5 – April 13
Offer not valid on performances from April 10 – 13 at Madison Square Garden
Washington D.C./ Fairfax, VA/ Baltimore, MD
Ringling Bros. and Barnum & Bailey® proudly presents Over The Top
March 18-April 19
Philadelphia
Ringling Bros. and Barnum & Bailey® presents ZING ZANG ZOOM
May 13-May 25
Anaheim/LA/Ontario
Ringling Bros. and Barnum & Bailey® presents ZING ZANG ZOOM
July 8-August 2
San Francisco
Ringling Bros. and Barnum & Bailey® presents ZING ZANG ZOOM
August 12-August 23
Sacramento
Ringling Bros. and Barnum & Bailey® presents ZING ZANG ZOOM
August 27-August 30


(Visited 204 times, 1 visits today)